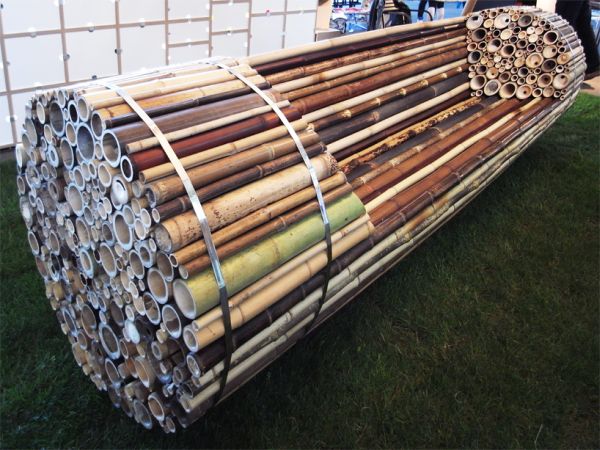 Bamboo is a very eco friendly and sustainable wood and hence excellent for creating furniture and houses. Bamboo is also very strong though the stalks look hollow and narrow. Bamboo has been in use for centuries and now the interest in bamboo is revived due to its sustainability and strength. A medley of stunning furniture design is created from bamboo and they blend exceptionally well with modern interiors.
Here are some magnificent creations from bamboo that can be considered for your eclectic home interiors.
1. Bare Bamboo Bench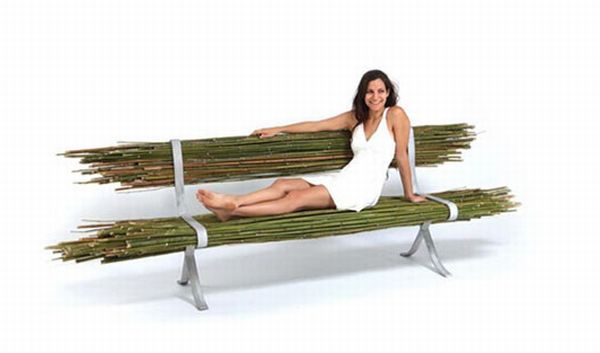 The fact that bamboo is fast growing and very durable makes it an ideal choice for sustainable projects. This beautiful bamboo bench looks amazingly simple and rustic. But, there lies the charm of this bench which can be used as a garden bench or as living room furniture for a rustic environment.
The basic aluminium frame is threaded with numerous bamboo stalks, making it very strong and great support. The back is optional and due to its raw stalk design, it is also easy to replace any broken bamboo stalk locally.
2. Boo- Bamboo Lounge Chair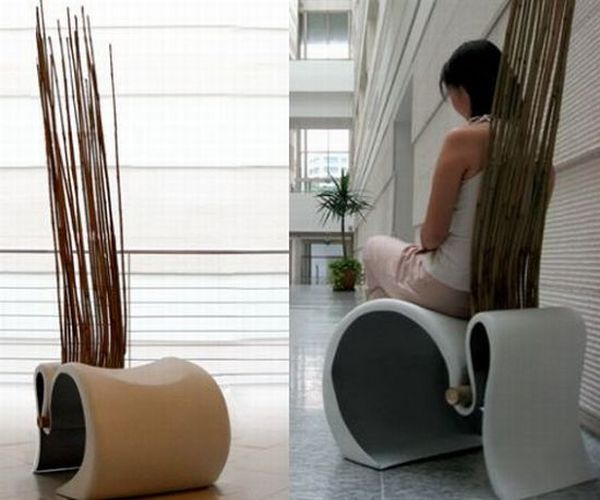 This exquisite and exotic looking lounge chair by Singapore based designer Kitty Cho is a beautiful design combined with contemporary materials to create a relaxing chair that has a very flexible backrest. The modern design along with the elements of rusticity adds to its charm and simple looks with which it is constructed, just by adding a few sturdy bamboo stalks into the groove provided at the back of the chair, the entire piece becomes a work of art that can also be easily repaired if the stalks are damaged in anyway. The flexibility of the backrest makes it possible to relax your body backwards or sit straight spined, whichever way you prefer.
3. Bamboo Bundle Bench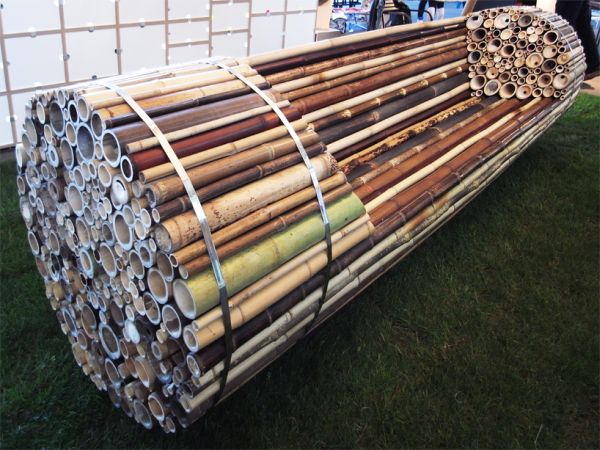 The bamboo bundle bench looks just like a bundle of bamboo stalks at first glance. But look closer and your eye will slowly recognize the silhouette of a bamboo bench. Known as the 'Pile Isle Reloaded', the design is developed by a German designer Elene Goray and an Engineer, Christoph Tonges. 10 varieties of bamboo coming from China, Columbia and Indonesia are used for making the bamboo bundle bench. The varieties of bamboos are tastefully arranged to form a beautiful blend of hues and the bamboo bundle is just tied with four stainless steel belts on both the sides. The tasteful arrangement of various sizes, shapes and colors of bamboo is what makes this bamboo bench exquisite.
4. El dot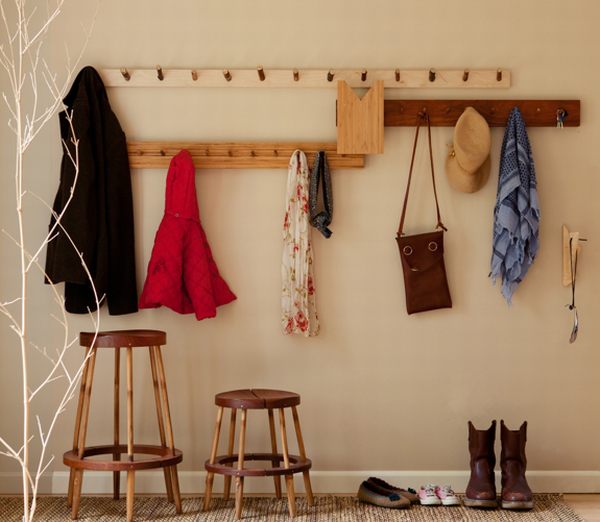 The bamboo furniture that comes from el dot is almost reminiscent of basic necessities. They are very simplistic, yet aesthetically created that they immediately become the center of attraction. Handcrafted by artisans from Nepal, these beautiful pieces can grace the rooms of modern environments and also rustic interiors which makes them very special. The sophisticated styles are definitely a range to consider if you are looking at bamboo furniture for your house.
5. Medusa Stool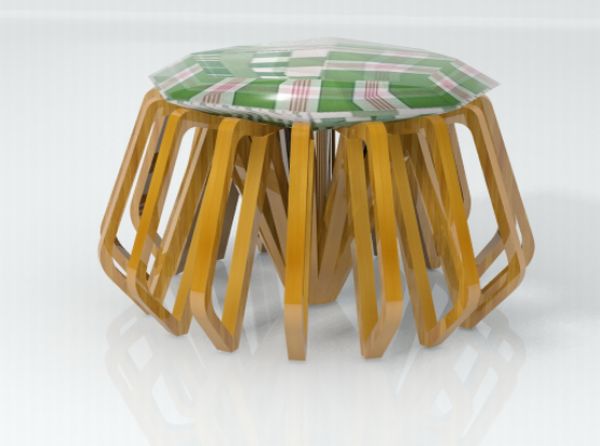 Every small piece of bamboo has been used without wastage in this stool created by Mia Lambinicio and industrial designer from Philippines. The medusa stool is made from strips of bamboo. The green chequered fabric used for the stool compliments the natural shade of bamboo. Scraps of fabric is used for the cushion stuffing making the medusa stool a totally eco friendly and recycled product as well. The medusa stool is a great addition to your kid's room as it is very sturdy with its multiple legs and hence also fall resistant.
6. PIE Chairs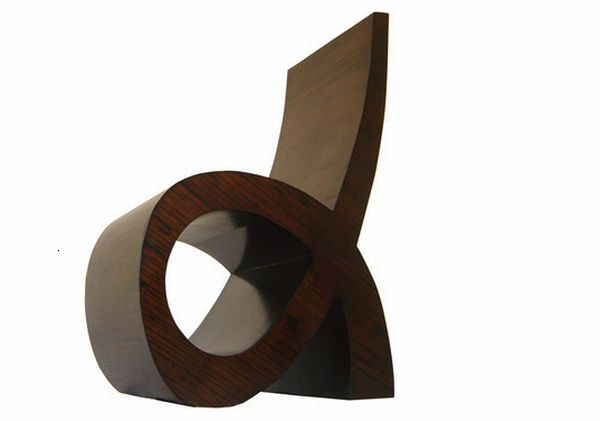 These beautiful and aesthetically pleasing chairs from PIE are creativity at its best. They are all hand crafted and imitate the curves and lines of nature. The designs are very simple, yet look complex in their design elements and imagination. The angular and curvaceous styles that dominate the design imitate nature and use natural elements as well for creating the furniture. The rich texture and colors too add a sensuality to the creations that is entirely infectious.
7. MELLO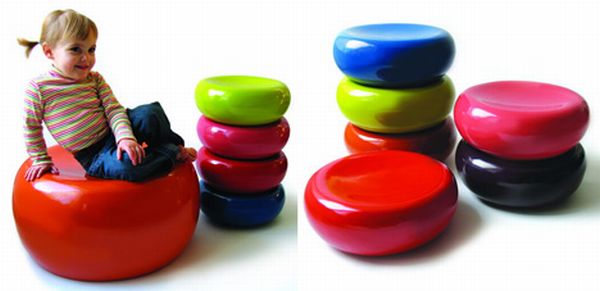 This cute and vibrant range of bamboo stools are so enticing with their soft and circular forms that they make a beautiful furniture set in your kid's room. They look very glossy, which make us doubt whether they are actually made of bamboo. The stools are stackable and they come in various sizes.