A freshwater aquarium is a perfect addition to a home that demands a fresh and soothing appeal. You have freedom to choose from a variety of sizes, but the bigger ones certainly have a bigger impact in the room, making it more relaxing. However, if you think you cannot get home a big aquarium owing to the space issues at home, think again. Here are some very innovative and space efficient aquarium ideas that can let you have some cool and big aquariums at home:
Around the fireplace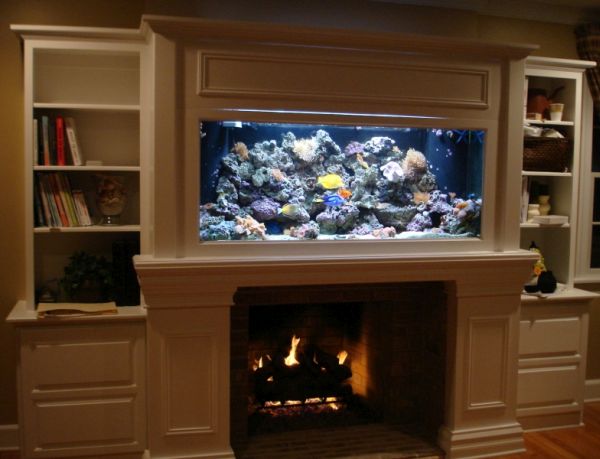 Besides having health benefits and stress reducing capacities, aquariums are of paramount importance for a room décor. They make a room lively and become a focal point of a room, thus hiding a lot many shortcomings if at all a room has. Here is a very cool idea of placing your aquarium around a fireplace.
Built into the wall surrounding a fireplace looks gorgeous and it saves space as well. You have to be very careful about the material and the overall makeup of the aquarium, so that the fire does not interfere with the water temperature.
Behind your bed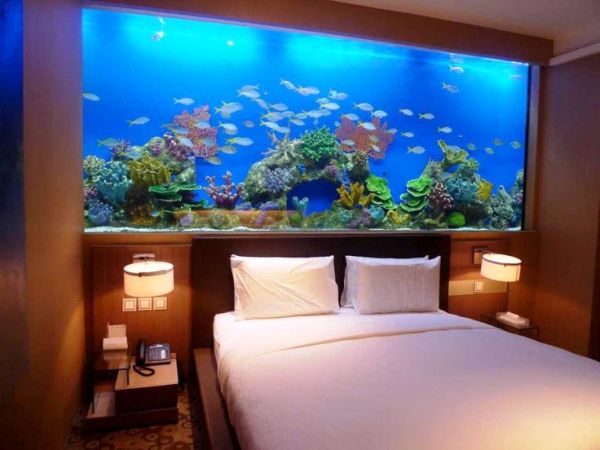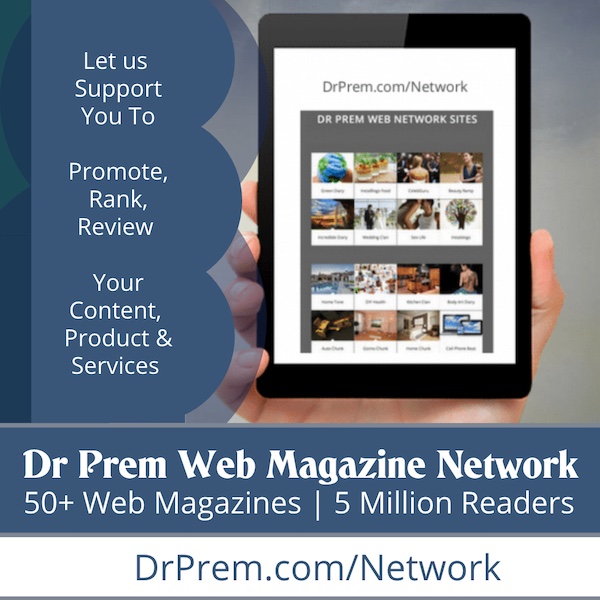 The headboard of your bed takes quite a lot of space and there is nothing exciting about it. Replace it with the same sized aquarium that will take the same amount of space but will add tons of positivity, health and excitement to your room.
Another idea that is just so ideal for small rooms is to have one on the wall behind your bed. This is a space efficient idea, which will make your room interesting and loveable like never before.
Vertical fish tank aquarium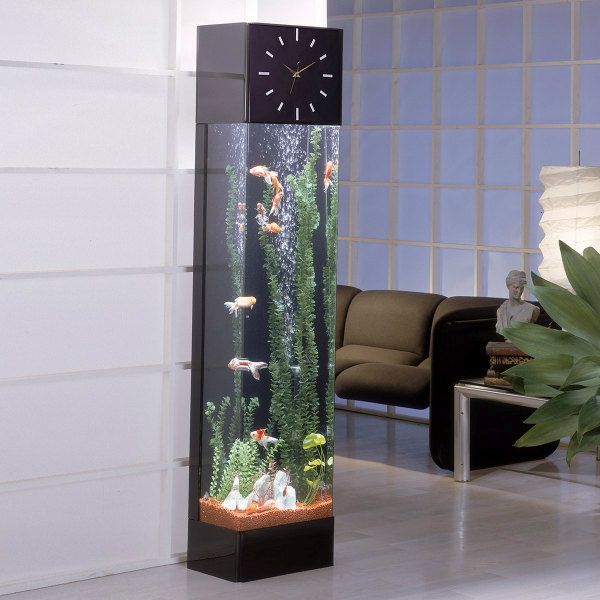 This design is not just for small but for decent or large sized apartments as well. Its smart, sleek and minimalist design speaks volumes of contemporary interior decoration trends. Place it in a corner, and you have it there full of life and positivity. This one has a clock at the top, likewise, you can search for some other designs you think suits your existing décor and your style the most.
The table aquariums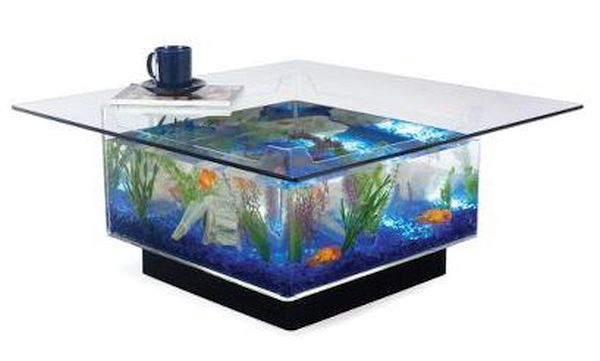 To manage the space trouble, you ought to think of or get the hang of some very creative and clever ideas. Here are the table aquariums that fight the small space problem in apartments and offices really well. Get home a coffee table that is an aquarium too, the surface works as a table and the area beneath is a beautiful fish tank. You get them in plethora of shapes, colors, sizes and styles, so pick the one you like the most. It goes for the office tables as well.
Use them as dividers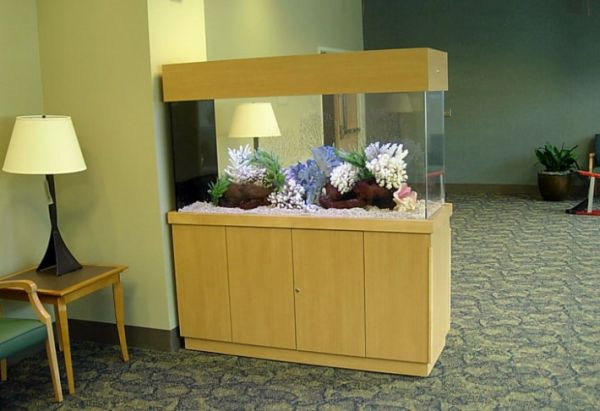 You want to divide your dining room and living room, your and your kid's room but there is no wall there. You need to install a divider and what better it could be than an aquarium. Get a wooden furniture aquarium, probably that stands up to the ceiling, and see how well it works as a room divider. It is like dividing the rooms in a most beautiful and attractive way.
Aquarium furniture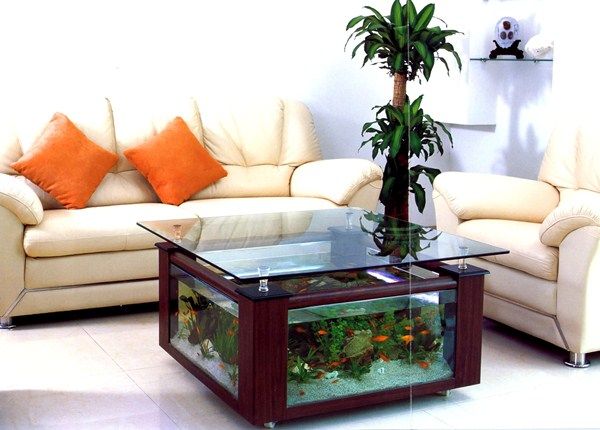 A very cool and innovative idea is to incorporate an aquarium into your furniture. Get home a sofa set that has aquarium on both its sides, and a kitchen cabinetry with cabinets on top and bottom and a beautiful aquarium in the middle. A shelving unit placed against a wall that has an aquarium in the middle and the shelves all around. Aquariums built as the railings for the stairs or the railings of the floor above are some other examples you must consider.
Having big aquariums in home is a farfetched dream for many, as they cannot have it in their small apartments. However, people can opt for smart and clever aquarium designs that are space efficient and solve this problem.