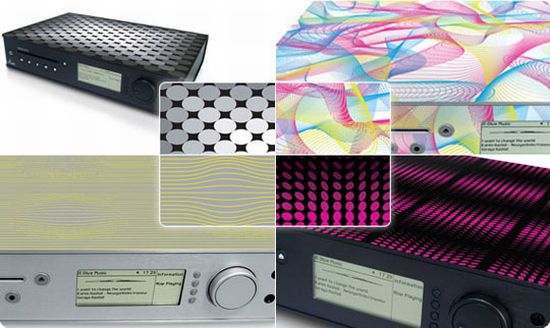 If music illuminated your souls with designer Karim Rashid's earlier Olive Media Opus Nº4 home music server, then this time get ready to dazzle and thrive with his new edition, the Opus Nº5. Loaded with four unique digital graphics patterns, omni-directional sounds radiating voluminous beats, this edition is really a blessing in disguise for all music freaks.
Karim defines his new project as:
Music is fluid, music is movement, music is sexy. Music is fun, embracing, mnemonic, liberating, emotive, experiential, memorable, and abstract. So, for the new Opus Nº5, I designed four unique digital graphics patterns symbolic of our corybantic digital age. Omni-directional like sound, the patterns emphasize the 'voluminous' beats that radiate from music. The repeated elements are symbolic of binary notation enveloping a perfect container of sound. Music has always been an essential emotional source of design inspiration for me. It is a beautiful phenomenon that I can put my 2200 CD's in this micro architecture at full digital one-to-one. That is the brilliance of the new brand of Olive – a sound architecture that navigates seamlessly and pleasurably, stimulating our senses and our ever-vast new experiences.
Wow, this latest edition really seems to be phenomenal. Though not yet available for sale, the cost is expected to be somewhere near or more than the 1TB OPUS Nº4, which costs $1799.
Via: Unplggd