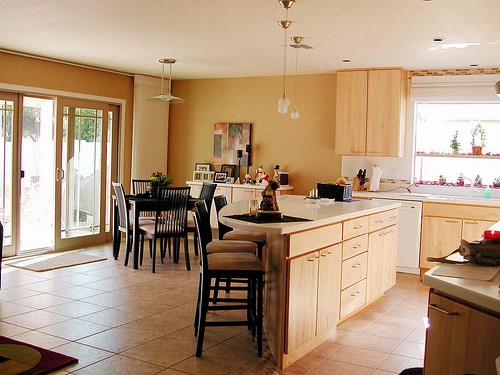 Changing interior doors can radically improve the look of your home, but it's not always easy to get it right. It's worth spending some time and thought on researching which doors would most suit your property and then hunting around for the best available products and prices to suit your budget.
Style
It's important that any door you choose will match the style of your home. They should be picked so that they complement the décor in the property. If you have an older house, find doors that will suit the period in which the house was built. Panelled doors are very popular and often stocked in large quantities, but a reclaimed wooden door can add a lot of character to an older property. The only risk in using a reclaimed door is that they aren't often available in standard sizes and you should check for any warping or splitting of the wood. For cottages or barn conversions, you might want to pick a ledged and braced door. These are made with planks of wood that are held in place by horizontal ledges and diagonal braces.
If you're looking to replace the doors in a contemporary home, flush doors often work better than panelled ones, and you can buy some beautiful door furniture to add interesting detail. Using a glazed or partially glazed door can also help to add light to a darker room. Any lower panels will need to have safety glass in them though.
For a home that's short on space, sliding or folding doors can be a good idea. Sliding doors can disappear into wall cavities and can be great for dividing an open-plan space into smaller areas when you feel like it. Have a browse of sliding doors available online at Todd Doors and Howdens for example to give you some inspiration. There are many manufacturers who provide custom-made doors, but it depends how much you budget you have available.
Solid or hollow
There are two main types of interior door – panelled or hollow core. As panelled doors are produced with solid wood they can be expensive. The number of panels can vary and they are sometimes glazed.
Flush, or hollow core, doors have a real wooden veneer or a timber-effect surface, but within are hollow or filled with cardboard filling. This makes them cheaper than panelled doors and their low cost is one reason for their popularity. However, for a contemporary house the flush style of these doors is often more appropriate than a panelled door, so it's another reason why many people choose them.
Solid core doors have a centre of chipboard or steel which give the weight and feel that you'd get with solid wood. Hollow or solid core doors can be pressed so that they give the appearance of a panelled door.
Once you've made the choice on style and type of interior door, there are other details to think about such as the type and finish of wood. When you have the finished product hanging in your home you'll be glad you gave it some thought before purchasing.