Trends and decorating ideas shift from year to year, and 2020 is no different. You've likely already seen many trendy updates, from bold tile patterns to bright painting accents.
In the midst of all these trends, you'll also see a lot of decorating faux pas. Homeowners want to stay up with the trends and try something unique, but that often leads to costly mistakes.
In the year 2020, here are some top decorating mistakes you don't want to make!
1. The Wrong Sized Rug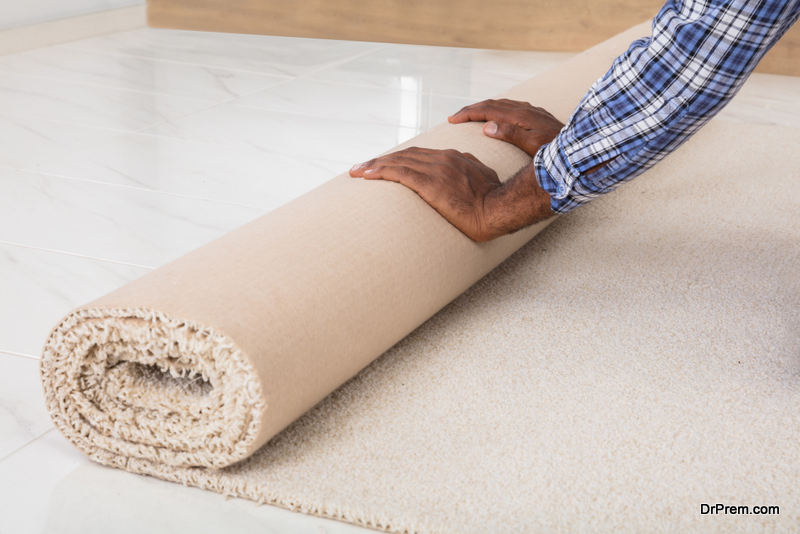 Here's one of the biggest amateur mistakes designers see in homes: a rug that's too big or too small. A rug that's too large for the room somehow makes the space seem smaller while a rug that's too small makes the room look unfinished. Even worse is a floating rug. Your rug should be anchored with furniture legs for a complete look.
If you're struggling to choose the right size rug for your space, try using painter's tape to mark out an appropriate rug area. Measure that and find a similar size piece.
2. Matchy Matchy Furniture
Newsflash: Your living room furniture doesn't have to match. In fact, no furniture in your house has to match (with the exception of your dining room chairs, perhaps). For years, homeowners have been falsely taught that for a put-together look, their sofa, loveseat, accent chairs, tables, coffee tables, beds, and chests must match.
It actually looks a lot better if you incorporate contrast into your furniture scheme. You can tie together different pieces of furniture using complementary colors and styles rather than sticking with monochromatic colors.
3. Shunning Wallpaper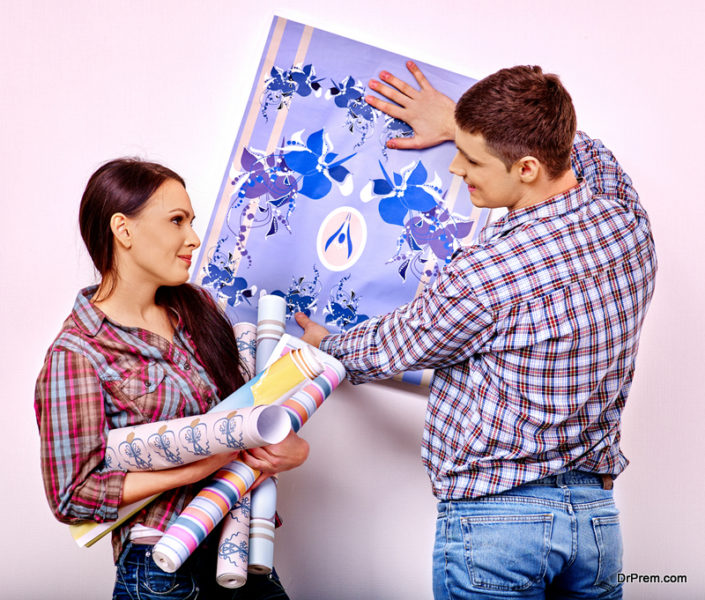 Although you still might want to scrape off the wallpaper that was original to your 1960's home, you shouldn't say no to all wallpaper. This wall-covering material has made a big comeback, and you can use it creatively to brighten a space.
Half-bathrooms are great places to experiment with bold wallpaper. Also, if you're planning an accent wall, wallpaper is much better than paint.
4. Monochromatic Themes
Gray on gray, white on white, beige on beige — these are popular themes we've seen in homes since 2010, and it stops here. Before you pay for a totally monochromatic paint color and furniture combination, consider how you can brighten the space with a little color.
Don't be afraid to choose a bold paint color for the walls. Navy is a popular 2020 color, especially for dining room walls and kitchen cabinets.
Whatever you do, don't choose the same color palette for your furniture as you do for your walls. Contrast is very "in."
5. Forgoing Foliage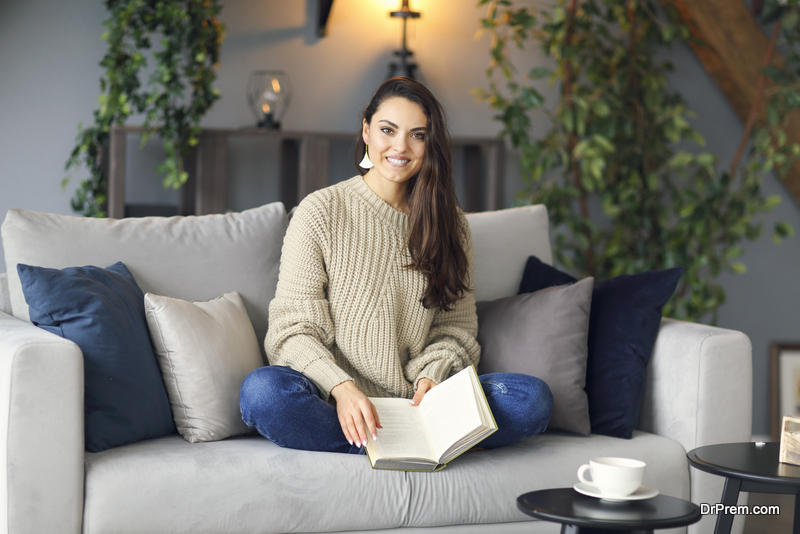 Many amateur decorators forget to incorporate flora and fauna into their decorations. A little greenery brightens any space, and real plants can actually freshen your interior air.
If you're looking for a new plant to incorporate in your design, olive trees have become very popular, real or otherwise.
6. Builder's Grade Anything
Without undergoing a full renovation, you probably can't do much about the builder's grade amenities in your home, but at least you can avoid adding more. If you want an update, choose a custom piece. For example, footed, stand-alone tubs are a trendy alternative to your standard built-in rectangle.
Additionally, you can always update small things like trim pieces and door frames. It's only a couple hundred dollars, and it will give your home a more customized look.
7. Stiff Dining Tables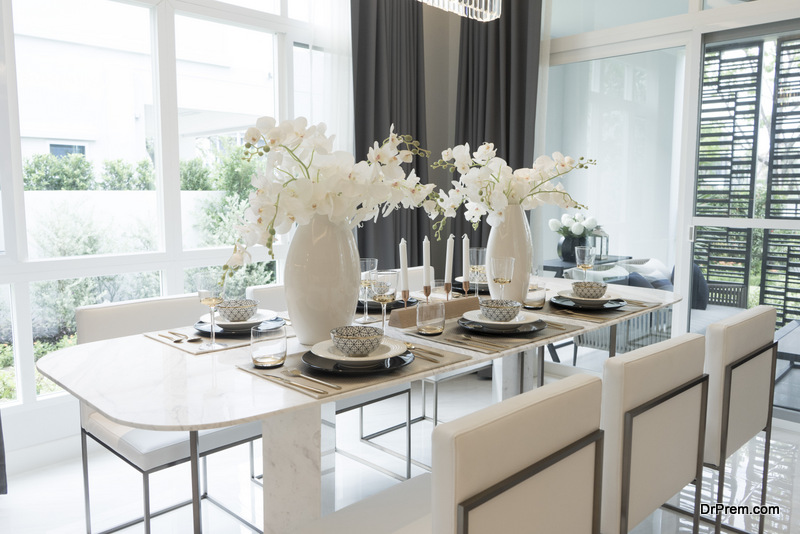 Hard, formal dining room tables make it difficult to relax and entertain in the heart of the home. You can improve a dining table dramatically simply by replacing your stiff dining room chairs with soft, upholstered pieces. Soften the entire look with linen placemats and folded napkins to create a table that's welcoming and inviting to both guests and residents of the home.
8. Cold, Industrial Design
It's difficult to relax in a home dominated by stiff angles, cold metal, and exposed piping. People are now opting for warmer spaces where they feel at home.
If you like the industrial design and aren't quite ready to phase out the stark pieces of metal, soften them with wood. You'll find many pieces paying homage to both farmhouse rustic and industrial perfection, creating a unique showpiece for any home.
9. Open Shelving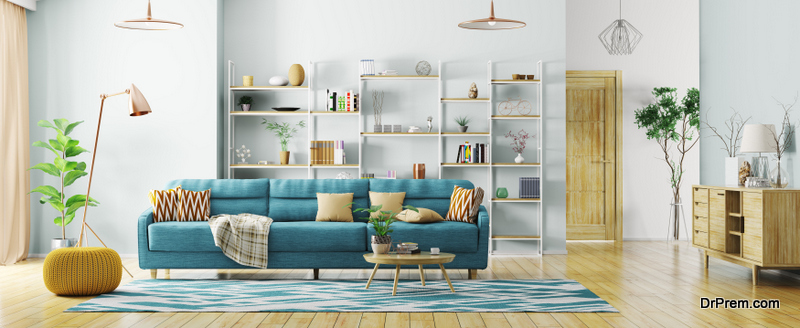 Open shelving in the kitchen can be cute, but it's not very functional. It just means that you have to wash your dishes before using them because they collect dust and debris. Plus, you have to keep them constantly tidy because everyone can see them.
If you still love the look of open shelving and don't mind keeping it ultra-tidy, at least close the shelves with glass pane doors to keep dishes clean.
10. Painting an Accent Wall
If you want to skip the monochromatic color scheme, a painted accent wall is not the way to do it. Choose a color you love and let it dominate the room. You can always accent with furniture and decor, and mix up the colors throughout your house from room to room.
Article Submitted By Community Writer