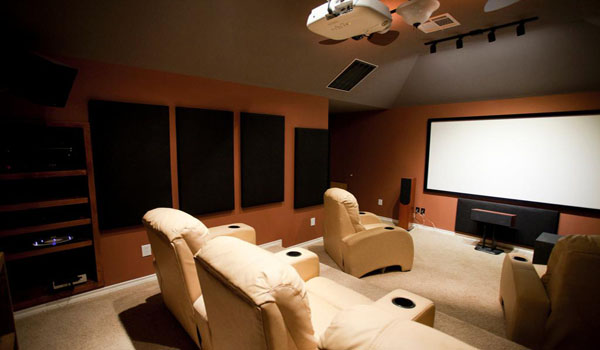 A home theater can be described as any area in your place where you can sit, relax and watch movies. People often develop such an area in their house to enjoy a nice movie in their own personal space and avoid going to cinema hall. But, if you want to make the most of that area and also make your movie viewing experience an enjoyable one, do pay attention to the following points to get that extra difference. These things if kept in mind will revamp your home and replicate the entire atmosphere of a movie theater.
The movie screen projector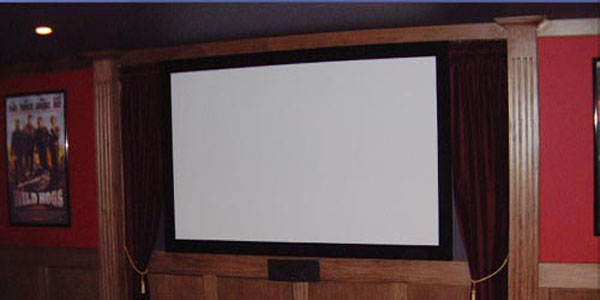 One of the main reason why people go to theaters is to enjoy the events happening on a huge screen as opposed to the small screen which your television set would normally offer. The magnanimous screen in a theater actually fills your entire visual array. This gives you a mirage of what is happening on the screen is actually unfurling in front of you in person. To achieve this extraordinary effect, the best way is to use a projector.
You can determine the size of the projected image by connecting it to a DVD player or computer. By placing the projector in an appropriate way, your entire wall can transport you into movie land. Make sure the wall is painted white without any visual aberrations. A flat matte paint is preferred as the glossy paints cause glare which can distort the picture quality. If you want to avoid the paint thing altogether, install a roll-down projector used for meetings and presentations.
The sound system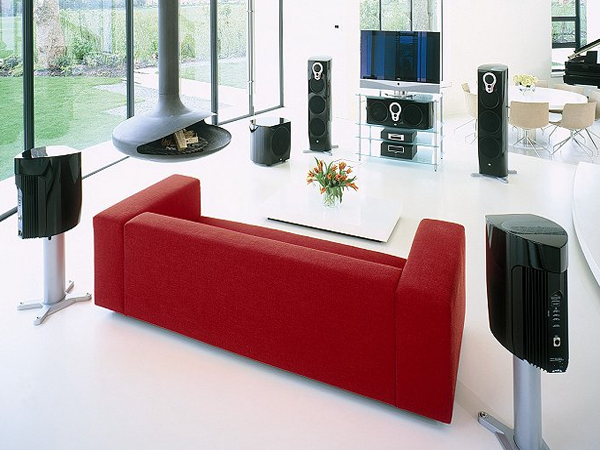 One of the most distinctive features of watching a movie at a theater is the overpowering sound system which completely absorbs the person and makes him live the movie rather than just watch it. If you want to replicate the same phenomena at home, it's important to install a good surround sound system. If the sound comes from just a single source then that entire immersion effect goes; so make sure the system you install is a surround sound one.
Another thing to be kept in mind is to have a sound system which has enough bass. This enables the viewer to not only virtually feel the action but also free the mid range speaker to try and produce a variety of pitches, ranges and explosions all at the same time.
Curtain calling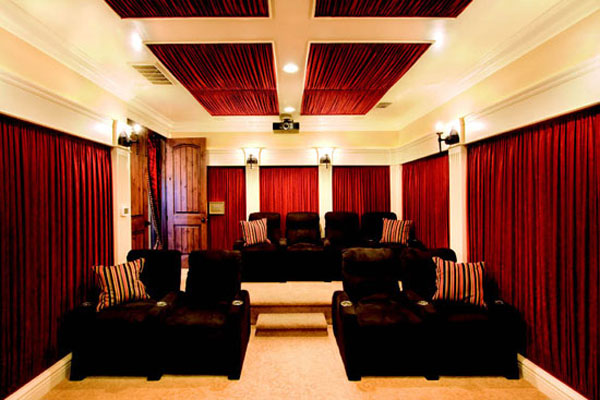 The drapes in a movie theater are not just for mere decoration but rather to act as shock absorbers to prevent the theater walls from making echoes that distort the sound of the movie. There is a lot of difference between sounds created in a closed room while those observed in an open plain.
A heavy, preferably dark cloth can be used as a cinema drape. A dark cloth is recommended as it will also prevent the light emitted from the movie screen to brightly light the room. So, one should always carpet the floor and also attach drapes to the home theater ceiling if possible.
The seating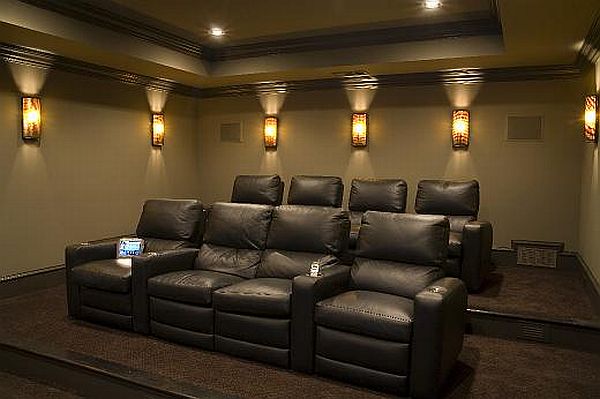 Chairs are one of the pre-requisites in your home theater. While some find a comfortable recliner to seep in and completely immerse in the movie, some like to go all extravagant and install a row of seats itself in the cinema room. With whatever your space specifications are, either can be done. You can also opt for the comfy bean bags. Just make sure to avoid hard backed chairs or any such uncomfortable seating as it will totally ruin your otherwise perfectly complete set-up.
What to eat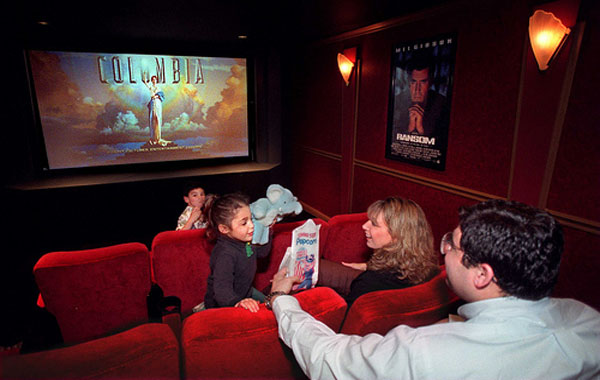 That totally depends on your discretion. But, aren't pop corns everyone's favorites? So, pop corns, cold drinks and some other snacks which can be easily cooked and are light on your stomach would perfectly complement your movie. You can also go ahead and order some pizzas or snacks from the diner. This way, watching a movie with your family would be different than any other evening in your living room.