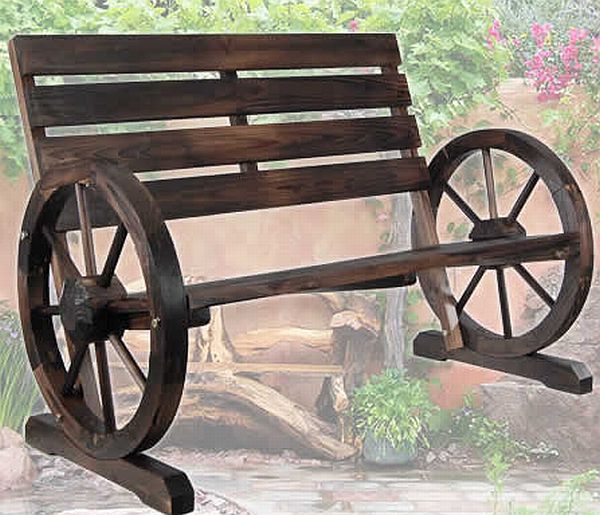 Gardens are the most beautiful parts of every house and come tagged with a magical aura that no one can escape. It helps people relax and lend a sense of serenity. The presence of a great looking bench is mandatory and will lend an artistic appeal instantly if it has been crafted in an intricate manner. Wood is a great material to make benches for gardens as it blends perfectly with the natural surroundings. The benches should not only look good but should also be sturdy and not harm the environment in any sense. Here is a list of seven durable wooden garden benches that will make your green spaces look all the more beautiful.
1. Fillmore Wooden Tree Bench
Price: $269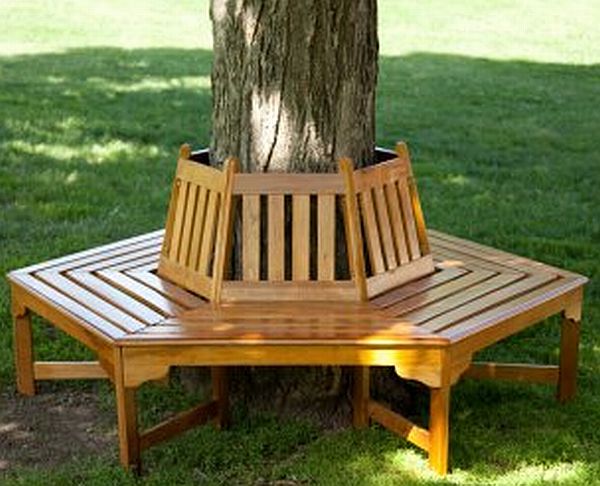 Fillmore Wooden Tree Bench will add a sense of romance to your garden space and make it your favorite spot. Normally, when a bench is wedged in a garden it only lets you enjoy views from just one side or angle. But, this tree bench will make sure you don't miss any aesthetic visual detail as it will unfurl a 360 degree view, thanks to its 6-sided seating arrangement. The bench can be placed around any tree that has a maximum circumference of 5.5 feet. It has been made from cedar wood that is light in weight and works well in all kind of weather conditions. The seatbacks have been constructed in a classic manner and have a slatted design, which is simple yet very attractive. The bench weighs 600 lbs and has a length, width and height of 68, 68 and 31 inches, respectively. It has been coated with lacquer that gives it additional protection and makes it all the more durable.
Product USP: Fillmore Wooden Tree Bench has been made from cedar wood that does not have an adverse effect on the environment. Since, it produces low greenhouse gases the use of cedar proves to be a green and wise choice.
Pros: The bench will let you savor the view from every possible angle. The backrests are slightly inclined that makes it very comfortable. It is a finished product and will make courtyards look all the more graceful. The wooden bench is strong and will stay in a great condition for years to come.
2. Deluxe Wooden Garden Glider
Price: $1,419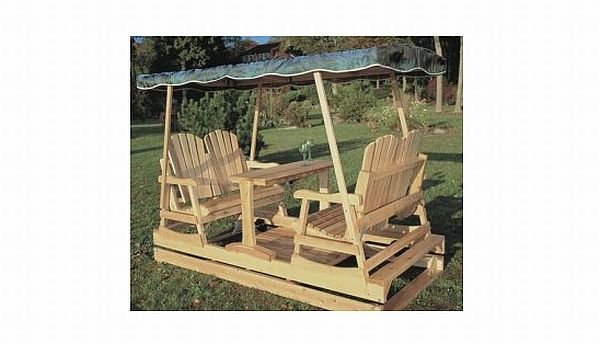 Deluxe Wooden Garden Glider is here to make your dwellings roll with a lot of live and energy. Sit on the glider and let your imagination mingle with the beauty around. Soak in the rays of sun or talk with the stars at night while resting on the glider in utmost style. It has been crafted from Northern White Cedar that will grace the backyard of your dwelling in a magical way. The usage of cedar wood makes the garden glider durable and also rot resistant. The design consists of two glider benches that have been stylishly placed on a strong base. It also features a rectangular shaped table that will make sure your favorite drinks and eatables give you company. The awe-inspiring design also comprises a canopy that can be chosen from three different colors. The canopy will rest on four poles that rise from the corners and will protect you from sunrays and rain. It can be assembled easily and there is an option to remove the table if not required. This will create more room and will let you stretch your legs further.
Product USP: The use of Northern White Cedar makes it a great outdoor option.
Pros: Deluxe Wooden Garden Glider can be painted in any color of your choice. It is weather resistant and will make you enjoy the beautiful surroundings all through the year.
3. Cunningham 5-ft. Painted Wood Garden Bench – White
Price: $199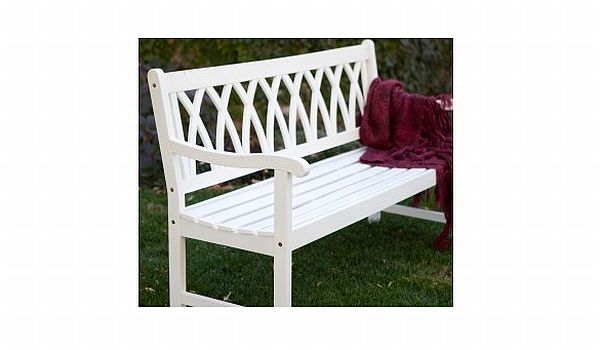 Cunningham Wood Garden Bench will arrest your attention with its white colored appearance. It is a timeless beauty that will make your garden area heavenly. The bench has been crafted from acacia hardwood that makes it weather resistant. The design will attract onlookers with its slated seat and a back that has been given a diamond pattern. The bench comes draped in traditional looks and will easily squeeze in a few of your favorite people on its five-foot size. If you are blessed with an eco-conscious soul then you will be happy to know that the wood has been harvested from protected forests. The bench weighs 650lbs and has a seat height of 16.5 inches. It has a length, width and height of 60, 25.6 and 35 inches, respectively. Bring the charm of country living in your own garden and rejoice in its glory forever.
Product USP: The bench comes sprinkled with a country flavor that will make you feel nothing less than royal.
Pros: The wood used is weather resistant and extreme conditions won't deteriorate the condition of this beautiful bench. The use of the color white adds a special appeal and makes the Cunningham Wood Garden Bench very attractive.
4. Vifah Eucalyptus Contoured Garden Bench
Price: $394.00
If you are hell bent to give your garden a seating arrangement that will force you to slip in a state of awe every time you set your eyes on it then Vifah Eucalyptus Contoured Garden Bench is the right choice. The bench has been given traditional features and has a contoured seat and back. The design is very appealing and does not need any special care or handling instructions. It has been made using eucalyptus gradis hardwood that is sustainable and eco-friendly in nature. It is resistant to termites, rots, fungi, mold and mildew. The bench has a length of 63 inch, height 40 inch and is 22 inch wide. Vifah has a weight of 44 lbs and has an oil rubbed finish. To maintain the beautiful color of this bench simply apply oil on its surface once every year.
Product USP: Eucalyptus Contoured Garden Bench has been made from sustainable material and is easy to assemble.
Pros: The design is simple yet appealing. The scrolled arms add extra attractiveness and will make gardens bloom like a flower.
5. Vifah Eucalyptus Wooden Garden Bench
Price: $399.00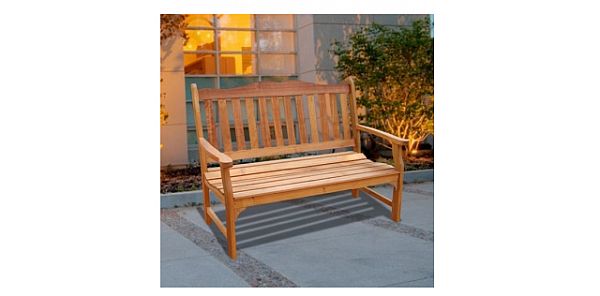 Just like the bench mentioned above even the Vifah Eucalyptus wooden bench has been crafted from eucalyptus gradis hardwood. The simple looking bench's back and seat have a slatted design. It has been given an oil rubbed finish and weighs 45 lbs. The environmentally-friendly creation will blend with outside space and give gardens a unique identity. It will help you relax and has a sustainable certificate from FSC (Forest Stewardship Council). The all weather bench will keep termites, fungi, mold and even decay at bay. It has a height of 6 inches, width 27 inches and length 67 inches. Enjoy your morning cup of tea sitting on this classy creation and see it become an importamt part of your garden.
Product USP: The wooden bench is resistant to rot, decay, mold and even termite that increases its life.
Pros: It is spacious that will let you enjoy the company of loved ones and friends. It can be placed anywhere in the garden and can be assembled easily.
6. Wooden Bench Garden Seat with Wheel Design
Price: $83.95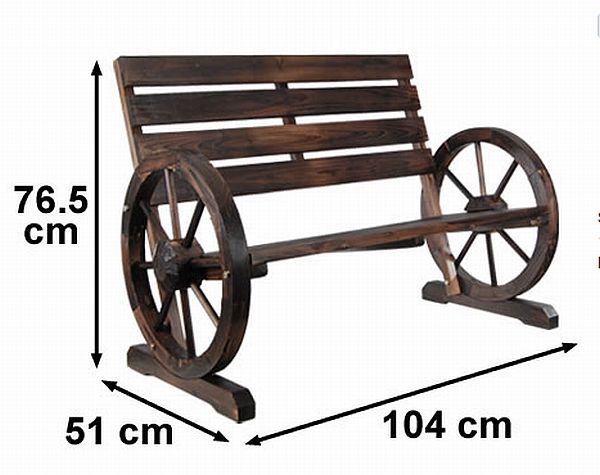 This Wooden Bench Garden Seat will make you feel as if you are seated on a cart thanks to the wheel shaped armrests that makes it stand out of the crowd. The exquisite design will leave onlookers impressed and it will fetch you uncountable compliments. It looks like a piece of delicate art that will ornament the garden space it is placed in with its beauty. The construction is very sturdy and comfortable. The back has a slated design and lends a charm of its own. The wooden bench looks very artful and is quite room as well. The back and armrests will lend the much need support and will help soothe those frazzled nerves in a snap. Place the wooden bench in your garden let the wheels of time churn happy moments for you.
Product USP: The wheel design lends the bench an artistic look and will grace your garden space like magic.
Pros: The bench won't consume much effort when assembling it and will give birth to a tranquil environment.
7. Dual Flower Planter Display – JS-09
Price: $65.95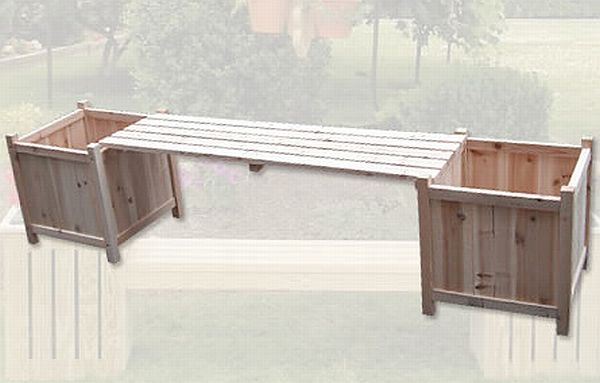 If you love to be surrounded by plants then the Dual Flower Planter Display Bench is just the right thing for you. It has been created in a tasteful manner and has been injected with functional features. The construction is durable and will last for years to come. The bench will be a perfect addition to your green garden and will give you extra space to grow more plants and flowers that will sandwich you in a soothing way. Place it in the garden bed of your house and add vivaciousness to the serene surroundings.
Product USP: Dual Flower Planter Display Bench is a great way to decorate your garden that too without burning a hole in your pocket.
Pros: The bench comes caked with a rustic appeal that will add a unique magnetism and make people stare at it in surprise. It will drape your garden area with unending beauty because the present of planters.