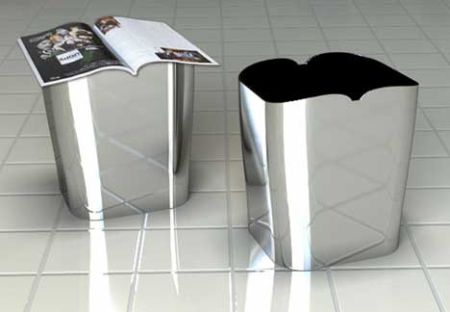 Wastebaskets are one thing that is very important as they provide your home with cleanliness but are not given the importance they deserve.
Maybe this is the sole reason that he designs haven't seen much alteration and we are never eager to buy a beautiful wastebasket.
The usual reason is…after all, they are just the wastebaskets.
However, a few designers have considered them as a significant part of our lives and so, are out there producing stylish and elegant wastebaskets.
One such design comes from Stephen Hauser's industrial design collection called 'Snowton'. The collection includes some marvelous furniture pieces. We caught hold of this lustrous chrome wastebasket which actually doesn't look like a wastebasket at all. It is beautiful, sleek and slender in design.
I wish it had a top covering too. Nonetheless, it is also a magazine holder. The fringe on the edges is meant to hold your magazines, so that you can easily read them while whisking away a cup of coffee.
That's what we call innovation!
Source: Squaremag