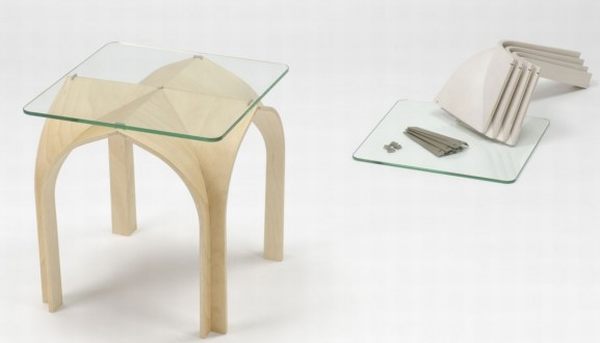 A designer can take inspiration from anywhere to translate it into a beautiful piece of art. This time it's the cathedral that has served as the recipe of imagination for designer Nobu Miake. Miake has created a beautiful and sophisticated table that can be used as a coffee table. It can also be displayed as a corner table or even can be used to place a small vase or corner show piece.
The legs of the table draw inspiration from cathedrals and popular gothic style architecture. The top of the legs reminds the windows and doors of the architecture that is specific to cathedrals. The legs are made in a manner that their top can easily rest a glass top, as you can see in the pictures given here. The choice of a glass top goes well with the fact that it lets one take full view of its base, unlike many embellished and gaudy looking cathedral inspired furniture. This also gives the table a very easy look and makes it suitable for modern home designs.
The entire look of the table, though inspired by gothic style has succeeded in making it suitable with the contemporary designs that are very comfortable and sleek. The wooden base also strengthens its bond with the modern designs as wood is one of the most popular materials for furniture, nowadays. The designer has maintained the wooden look by giving it a glossy finish instead of getting it painted. Those who find adjusting and attaching designer pieces easy would be happy to know that this table can be detached in separate parts. These separate parts are portable and can very well be fixed again by just a little effort.
The base when dismantled into separate parts can be easily carried by placing the pieces of legs over one another to make a bundle, which is easily portable. Though, you might need to be extra cautious while carrying the glass table top. As for design lovers, they'd be happy to put all these efforts because this design is certainly worth it!
Via: Homedosh