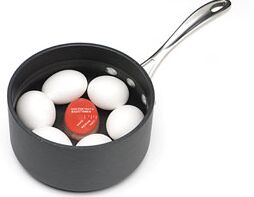 If you are one like me who end up having eggs that are either boiled in excess or half boiled but never perfect…then you are in a dying need of a gee timer.
There are many available in the market. But the Burton Plastics Perfect Egg timer is one that's really simple to use as all you need to do with this is to put it in the pan along with eggs.
This one takes into account the amount of water and the heat accumulated and tell you precisely when the eggs are perfectly boiled. So no more stoned eggs and no place for flowing yolk once the Burton Plastics Perfect Egg Thermometer comes to your kitchen.
Price $7.75
Via: Cooltools