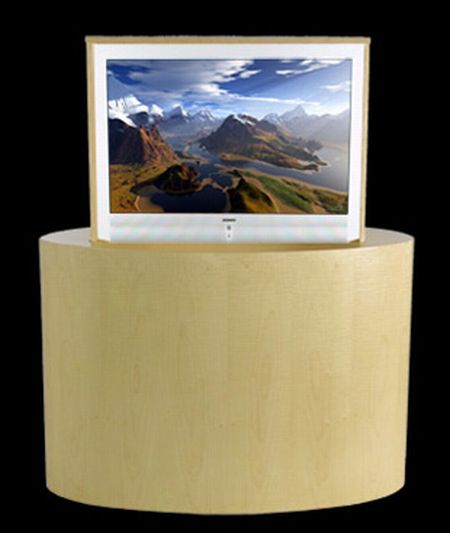 Here is a piece of furniture that can make TV viewing a lot more fun! The Atlantis Plasma Lift Console and TV Lifts enable you to personalize and freely customize your TV watching! Let's see what all it can do. The Atlantis motorized TV cabinet can be placed wherever you feel would be convenient for you. You are free to place it at the foot of the bed. Alternatively, to leave more 'moving space' in the room, push it up against the wall. It can also be left to 'float' in the middle of the room if it suits your mood. For an additional cost, you can have an automated 360 degree swivel! With this unique feature, wherever you are positioned on your bed, on your cozy couch or sprawling on the floor, you can swivel the TV set around to enjoy uninterrupted easy viewing. A light push of a button, and it's as if the screen obeys your order and is lifted quietly up for you.

Its oval shape fits into any corner with perfect ease. It is modern and stylish, without being superfluously decorative. In fact, that's the reason why it blends smoothly with almost any decor. It is available in two sizes: Small (60″ wide 35″ high, 24″ deep allowing 45.5″ wide, 25.75″ or 23.75″ high with swivel, 7″ deep space for plasma screen); and Large (66″ wide 37″ high, 24″ deep allowing 52.5″ wide, 28.75″ or 26.75″ high with swivel, 7″ deep space for plasma screen).
You are really be spoilt for choices when it comes to color. You will have a hard time choosing from Mahogany, Ebony, Espresso, Walnut, Maple or Cherry). Each comes with a clear finish. The one you see above is maple. I personally liked the Ebony finish the most. It all depends on your taste and home decor. Happy TV-watching!
Source: Cabinet-Tronix