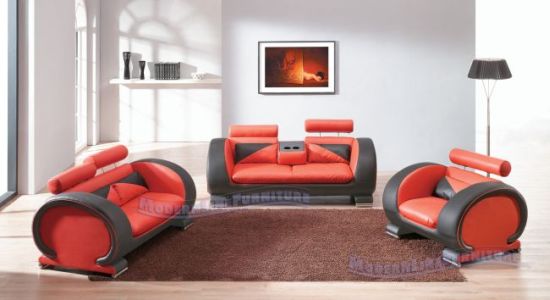 The first look of the black and red living room furniture from Modern Contemporary Leather leaves quite a good impression on the viewers. When you will know about the special features and the minute details of the designing of it, you will start loving it. Solid hardware products are used in the framing for its durability and the corners are made safe by proper nailing and gluing. The upholstery is made of the finest Italian leather designed with matching leather to bring out the best combination of colours. The backs of the seats are well equipped for complete comfort with heavy gauge for seats and perfect back support.
The middle section of the sofa has an upright rectangle that can be converted into an armrest or a small table for drinks and snacks, board games etc. You can adjust or remove the headrest as is comfortable to you.
The dimensions are:
Sofa: H35″ x D38″ x L80″
Loveseat: H35″ x D38″ x L64″
Chair: H35″ x D38″ x L44″
The cost of Sofa is $695.95, Loveseat is $595.95 and that of Chair is $495.95. You can also save if you shop for a combination of the sofa and loveseat set, which is priced for $1200. Shipping flat at $300.
Via: Modernlinefurniture