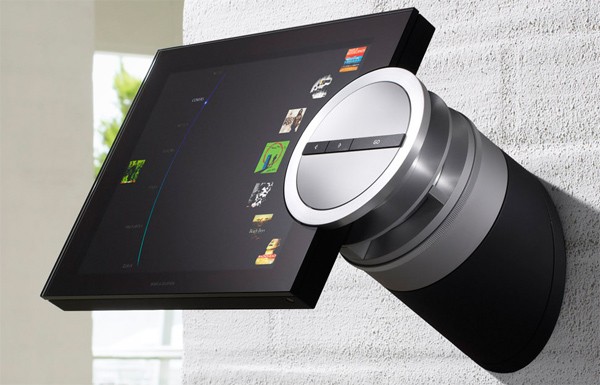 It's been three long years in the making, but Bang & Olufsen seem to have created a masterpiece. Presenting the all new BeoSound 5 Encore that looks to merge audio perfection with avant garde sound technology. The newest member of the famous Bang & Olufsen family, comes packed with powerful and intuitive features that redefine listening to music in more ways than one. With an innovative MOTS feature, users can simply select a song and the device automatically detects songs of a similar genre from your collection and compiles it in a play list. The player also gives the user access to over 13,000 international radio stations, so you know you're never gonna be starved for choice of tunes.
Designed by Anders Hermansen, the 31cm x 19cm x 8 cm system, weighs 3 kg and comes with an anodized aluminium shell with pressure die cast aluminium and coated glass finish. The crisp display features a 10.4″ TFT LCD with a resolution of 1024 x 768 pixels, features over 16,777,216 colors and comes finished with a low reflection coating.
Loss-less playback: BeoSound 5 Encore ensures loss-less playback of all kinds of digital music and supports audio formats like MP3 (8-320 kbps), MP3 VBR, WMA (10 – 320 kbps), WMA VBR, WMA Loss-less, AAC-LC (64 – 320 kbps), AAC-LC VBR and FLAC. Music can be played on the device from a music server, a smartphone, a mobile device, an external hard drive or a USB device. The device also supports network connectivity via Ethernet or wireless.
The pin code-protected sound system comes with preset language option with the menu being operable in English, French, Spanish, Danish, Italian, Dutch, German, and Swedish languages. A wall bracket is included in the basic package and the users also have the option of using the BeoSound 5 with a table or a floor stand. Retailing at $3,350, the BeoSound 5 Encore is one of the more affordable sound systems that carry this level of sophistication.
Via: Engadget