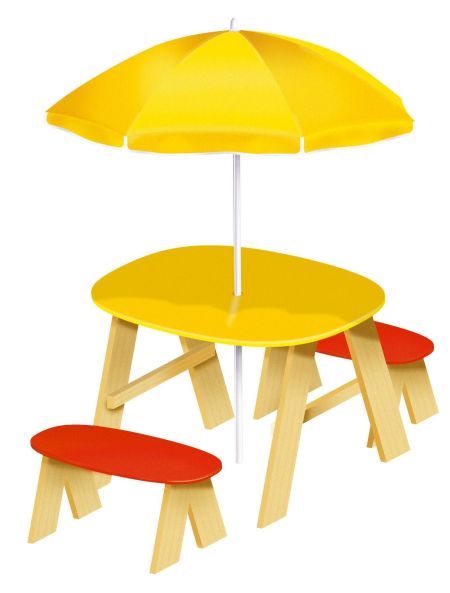 Your kid deserves the best of everything. So, next time he intends to throw a picnic get him a picnic table that is contemporary in appeal and functional too. The use of primary colors in these picnic tables creates visual interest in toddlers. Further, the array of colors suits the décor of every home. The wise ergonomically designed shape of these picnic tables gives you kid comfort when he sits on them longer durations. Let's delve into the list of some beautiful picnic tables for kids and surprise kids by gifting one.
Hexagon kids picnic table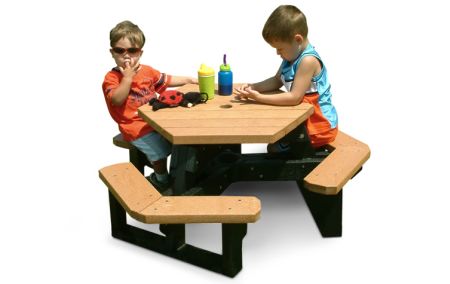 The beauty of this kid's picnic table is its hexagonal shape. When you look at it at a first glance you will see a perfect hexagon made of wood forms the table top. The elbow angular stools provided with the table work further in retaining the visual symmetry of the geometrical shape. They also help the children have face to face discussions. The USP of this kid's picnic table is that it has a grown up appearance which will be a precious possession of your tot since all kids pretend to be adults. The generous diameter of 25-1/4th inches gives your tot enough room to scatter things on it while playing with his mates. As for you, the smooth surface ensures that any mess can be cleaned thoroughly by simply wiping it off.
Jonti-Craft® picnic table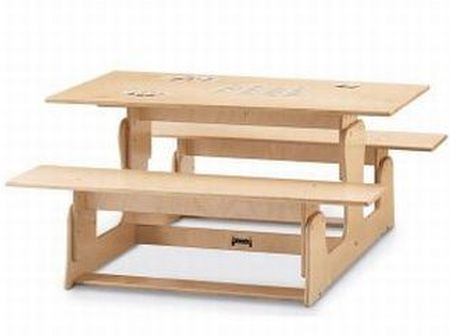 When you look at this kid's picnic table, you will feel that it is just like one of the craft projects that your kid often makes in school. The maker might have thought that kids will identify with such a look in a better way. This Baltic birch picnic table is best when used to throw an indoor tot's get together or a kid's tea party. Now, for the functional aspect of it, the intelligent size of this table is perfect for accommodating a larger group of children. The height of the benches and tables can be adjusted up to 2", which ensures that the set will be convenient for a taller kid too. The edges are deliberately kept rounded so that your kid never gets hurt while playing on it. The smooth finish makes it easy to clean.
Picnic table from Delamaison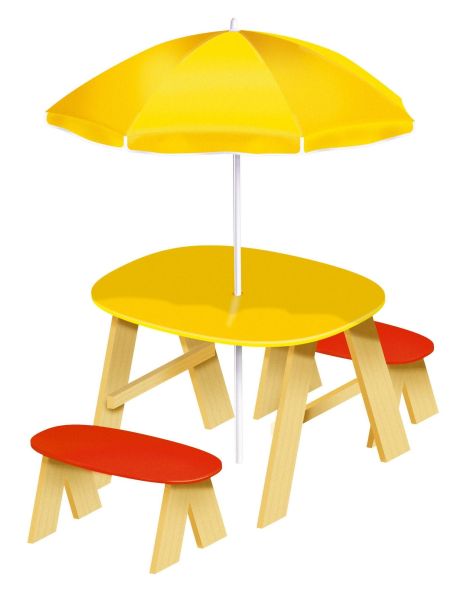 Kids deserve to be treated as adults. This is what inspired the French designer to create this beautiful kid's picnic table. It is a perfect companion of the tots when they intend to host an outdoor picnic on a bright sunny day. The giant garden umbrella on top of the table, which shades a larger area under it, ensures that your kids will never get sun scorched. The oval shape prevalent all over the set, be it the table top or the stools, aesthetically gives it a cute look. Functionally, it ensures safety of your kids from accidental hurts and nicks. The use of bright and primary colors in the furniture makes it a pleasure to own for the kids.
Lohasrus Patio kids green picnic table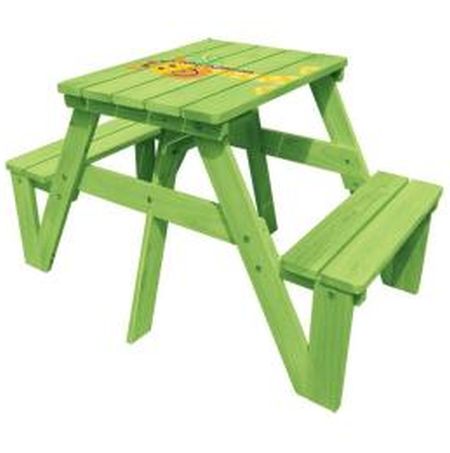 The slim design, rustic look and bright color are the predominant characteristics of this kid's picnic table. The open design of this kid's amusement furniture is an attempt to help kids feel one with nature as they enjoy themselves in an outdoor picnic. Green is thus used as the only color for the picnic table so that it can bring a piece of lush greenery in the robotic life of urban children. But you can be rest assured that the color is 100% non toxic and water based. So, it will never be detrimental for your kid's health. The decal of a yellow colored giraffe at the center of the table top enhances the feeling of oneness with nature further. Fir forms the base material of this picnic table and confirms that it will never get affected by insects or rotting.
Lifetime kids picnic table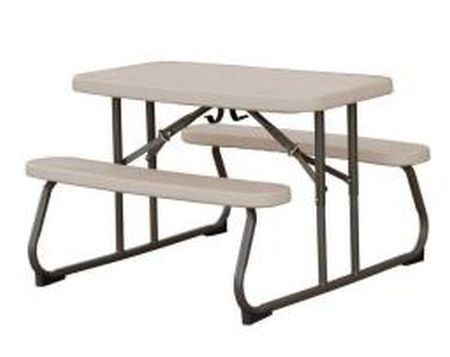 This lifetime picnic table is truly a lifetime possession of your kid. Right from the selection of material to the design and to the color combination, the maker had been particular that the taste of your kid will change as he grows up. So, he gave this furniture an adult-like appeal. The foldable features of this kids' table make it convenient to keep it away when not in use. It is thus a perfect solution for a small apartment where space is precious. The table is made from high density polypropylene, which accounts for its lighter weight of 90lbs in comparison to the heavier traditional counterparts. The powder coated color on its surface makes it UV protected and stain resistant so that it can withstand the heavy wear and tear it is supposed to be exposed to. The tabletop is big enough to accommodate four kids simultaneously while the linked steel frame and the seat provide them with their sitting arrangements.
Recycled Earth friendly outdoor patio kids picnic table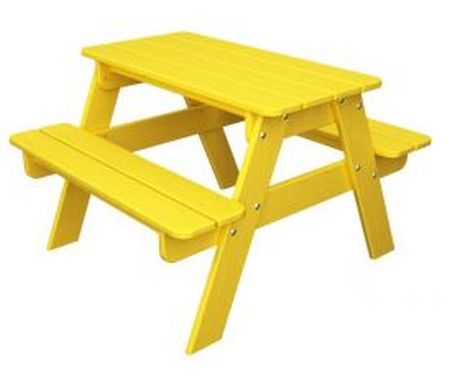 This table is sleek, ergonomically designed for kids and most importantly, eco friendly. Wood is definitely the basic material of this table. Most surprisingly, the eco factor in this product is that the wood is recycled. But that never implies that your money will do waste when you buy this kid's picnic table. It is strong, sturdy and durable enough to withstand the harshest of weather conditions. It does not pick moisture or water, so it will never rot too. The UV inhibiting pigment used in it resists the bright yellow color from fading with time. So, the table remains ever new.
Action play systems 6′ expanded picnic table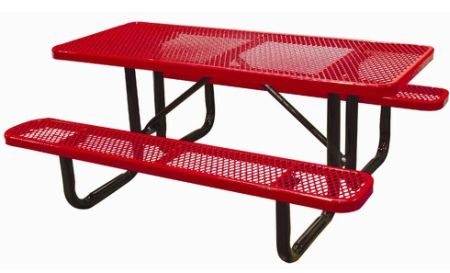 You as well as your tot will definitely fall in love with the bright red colored mesh-like table top and the contrasting black colored frame of this kid's picnic table. It is easy to clean and needs just a gentle towel wipe to get rid of all the mess on its surface. The rectangular shape of the table top with embossed edges never lets your kid's tit bits fall off the table. The long benches connected to the table by means of metallic rods encourage your tot to throw a bigger party.