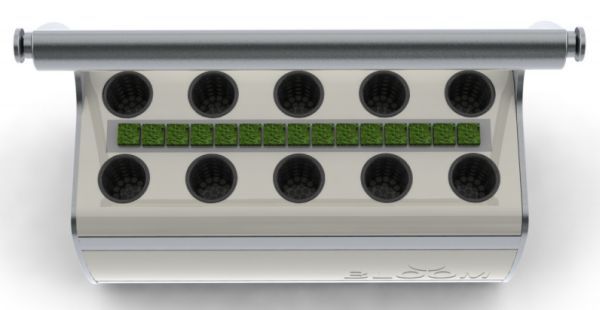 Designed by Mark Ayres, the Bloom indoor plantation system is the smart solution to the problem of space in today's urban dwelling where apartments are really space cramped. The cool plantation system lets you grow your own produce indoors from seed to fruit.
The system is designed with great care to meet all the plant requirements that are monitored and controlled electronically. Bloom draws a similar amount of current as a 13W CFL light bulb and the water needs changing roughly once every two weeks. Bloom gets better result than using soil and is cleaner making it suitable for any room in the home.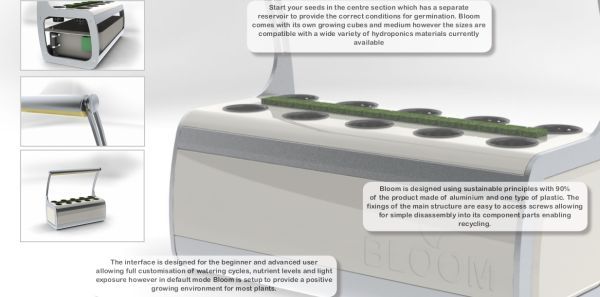 The flash interface from your computer or ipod via the wireless network can help you to get information, control the system. Bloom lets you simply plug and grow. There is a built-in webcam that allows you to communicate your results and opinions with a community of fellow growers.
Put the seeds in the centre section which has a separate reservoir to provide the correct conditions for germination. Bloom comes with its own growing cubes and medium however the sizes are compatible with a wide variety of hydroponic materials.
The indoor planting system is designed using sustainable principles with 90% of the product made of aluminum and one type of plastic. The fixings of the main structure are easy to access screws allowing for simple disassembly into its component parts to enable recycling. The interface allows full customization of watering cycles, nutrient levels and light exposure however in default mode. Bloom is setup to provide a positive growing environment for most plants. To conclude I would just say, Bloom lets you learn about growing fruit and vegetables, cut down on your grocery bills and reduce your impact on the environment in a smart way.