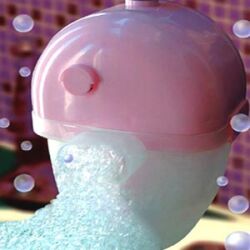 Having bath in a bathtub that's over loaded with soft and shiny bubbles is an all together exotic experience. My logic in the context of bubbles says…more the bubbles, better the bath. With a view to satiate my quench for bubbles I keep on hunting for newer gadgets to add into my bath.
The latest that I came across is this Bubble Bath Machine, which seems to be a great add on. All you need to do with this is, keep in on the side of your bath and it will do the rest. Now…relax in the comforts of loads of soft frothy bubbles on your sides.
Must say…a great way to pamper your self.
The Bubble bath machine is priced at $24.45, and is available at Find-me-a-gift.