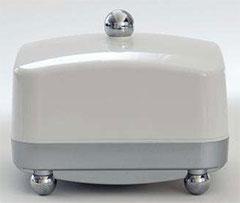 Fresh-out-of-the fridge butter is such a pain to apply on the bread…to be honest I've have broken a number of knives in that fight. But I think this messing up with butter will soon end thanks ButterWizard.
This is a unique butter-dish that will keep the butter at a temperature that's just right to spread.
It has a built in fan and a chip that adjusts the temperature according to the texture of the surface. So don't worry if you wanna spread butter on super soft bread or a crusty toast. Butter Wizard will do it for you…It's available in UK for 34.95 pounds.
I guess this is going to be a buttery revolution … at last something is there to keep away the struggle that happens daily at almost every breakfast table…Jus' keep the temperature under control or you might end up having a butter soup.
Thanks : Marc Perton