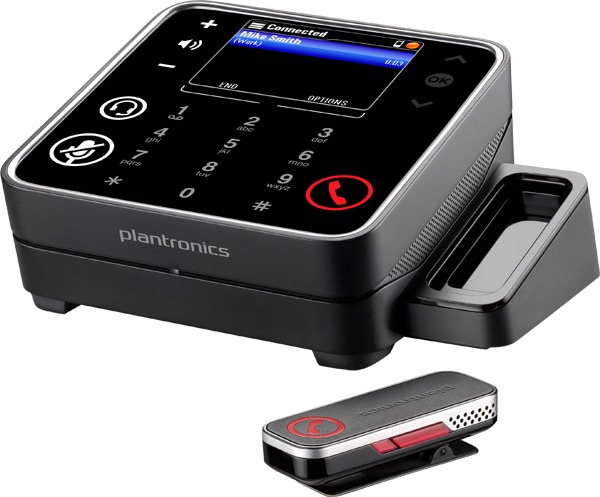 Abridging the difficulties in communication, Plantronics has introduced a landmark communication product called the Calisto SmartSpeaker. Designed specially to cater to the professionals working from friendlier and comfortable surroundings, the Calisto 800 Series multi-device speakerphone system ties up all the three communication aides, namely mobile phone, landline and PC, in one product to team up with their connections.
Key Features
For those, who always wish a gadget to be a perfect blend of performance and utility, the Calisto 800 comes packed with a plethora of features:
• A touch sensitive dial pad armed with 2.4″ color display is there to dial, answer, and view the caller. It also helps juggle between mobile, PC and landline calls.
• Muting facility on the dial pad protects privacy and homely noises.
• The device supports Microsoft Office Communicator, Skype and Lync 2010.
• Bluetooth or corded headsets/ headphones (3.5mm) offers privacy and free movement.
• Superlative quality sound ensured with full duplex speakerphone.
• Highly developed noise cancellation technology with wideband audio offers clear sound.
• Wireless microphone guarantees free movement and clarity of transmission.
• Remote control facility is there to answer, end or mute conversations over the communicators.
• Its 360-degree peripheral reach makes ideal small table group conferencing.
What's different?
Global statistics show that working from home is catching up fast. Plantronics EMEA Head of User Segment Marketing Stuart Bradshaw says that people are refocusing out from "traditional cubicle environment". They are turning more mobile requiring better communication devices to keep them on the move yet not compromise on their availability. The technology behind the Calisto SmartSpeaker was to provide simple, clear, quick and compact connections to juggle calls between the (digital) PC, mobile and (analog) home phone with flair. The user can work in friendlier conditions with absolute hands free comfort along with superb clarity in sound through the lapel pin speaker.
Should I buy it?
This multi device speaker phone provides the user an ergonomic wonder of combining comfort, professionalism and uncompromising audio quality while still being the durable in-house product. It has an attractive and easy visual input system and also facilitates audio conference calls for not only the home-based professionals but also reaching out to all family members and friends alike. It is optimal for Microsoft Office Communicator, Skype and Lync too. The SmartSpeaker puts forward zero discomfort on position, locale or posture while being connected long hours on the phone.
Price & Availability:
The Calisto 800 Series is available in EMEA through authorized Plantronics resellers and starts at $199.95.
Source:Plantronics/Aving