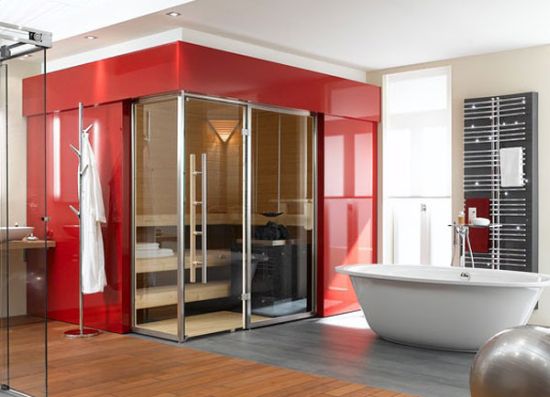 If you're the one who is a little finicky and don't wish to compromise on luxury at any cost, then you need look no further. Here's a luxurious sauna that is sure to entice you with its outstandingly elegant facade. Viitta (Cape) sauna by B + S Finnland Sauna is so eye-catching and appealing that you will become the object of envy.
What's different? Stunning form and functionality is what makes this sauna best of the rest. A sexy red sauna in a trendy bathroom that is totally up-to-date both inside and out – is that enough for your trendy home? There must be something more. Right?
Effusively customizable, this sauna accommodates your ideas for a personal touch. You can co-ordinate the sauna with your bathroom tiles or choose the color of the curtains to match. Have a perfect bathing experience in this luxurious sauna.
Via: Hemfeber