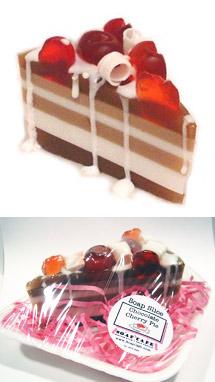 Before your mouth start watering…and before your taste buds start craving…let me tell you this is no yummy and sumptuous cake that it looks like. Sorry to break your heart it's a soap cake. Yes, this is a chocolate scented soap from Soap Cafe, called the Chocolate Cherry Pie Soap.
Have a look at the instructions that come with this soap. One ought to follw these for the soap is really tempting.
Please don't eat these products or try and taste them. Please do not leave around children, pets and some adults as they might try and lick them, taste them or eat them. All items are made with cosmetic grade fragrance oils.
I think it's a perfect gift for the chocoholics that you can get for $6.95 at Pixel Girl Shop.