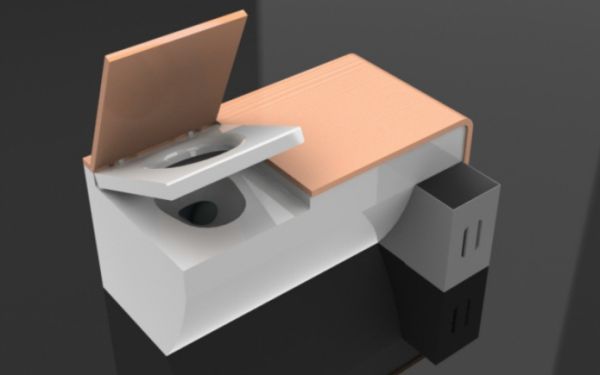 Maintaining a good sewage system is not an easy task. Sanitary solutions like septic tank or pit latrine leads to pollution of underground water and hence cannot be considered environment friendly. It becomes more difficult for a sewage management team in areas where there is scarcity of water. In places where there is not enough water to drink, people do not think of using it for toilet at all. A solution to these problems is the 'composting toilet'.
This kind of toilet is designed in such a way that it collects human waste and turns it into manure or a mixture of nitrates which is a nutrient-rich matter. This matter is known as humus. Humus doesn't pollute the ground water or surrounding water bodies. A tippy-tap is used in this toilet system for limited consumption of water while washing hand. This technology helps in cleansing your hand in about 80 ml of water. The one side of the toilet is for urination and the other side is for solid excreta or faeces. After use, the toilet is supposed to be completely covered with saw dust. This toilet is an insect free and a no smell toilet.
The urine is collected in a plastic container on the other side of the solid waste collecting box. Human urine is rich in nitrogen content especially urea which is a good fertilizing agent for plants. After diluting the urine with water in a proportion 1 to 4 or 1 to 8, it can be used as a nitrogenous fertilizer for plants.
The solid excreta is collected in a tin box and can be replaced with another similar box when full. The stool is left for a limited period for primary decomposition. After three weeks of composting, the excreta from the box is taken and emptied into an earthen pit or a large composting container for secondary decomposition process. This container is now covered with a layer of leaves and is allowed to stay for another three to six months. Hence created biodegraded human waste can be used as manure. The manure thus prepared is excellent for plants and trees.
The composting toilet is better in two ways – on one hand it consumes very little water and is a boon for arid and semi arid areas, while on the other hand it generates efficient manure as well. Eco-friendly sanitation options are approaching up in different places around the world which includes Sweden, Germany, Denmark, the USA, China and Sri Lanka to name a few.