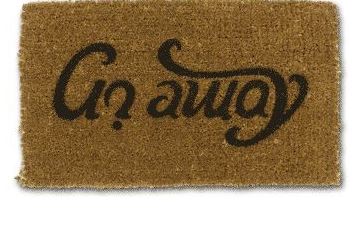 Door mats come in all sorts of shapes and designs. They also become a great way to welcome your guests, thanks to the words like 'warm welcome' written over it. But I just came across a strange door mat, which shooed off the guests instead of welcoming them.
Reason…?
It was all due to the overtly-creative font used over by the designer that made the text reading 'come-in' appear to be 'go away.'
Thinking the other way round it can also be a clear indication that you want the guests to remain out…but only if your guests are intelligent enough to take that clue…isn't?
This design is also available in doorknob handles
Available at Suck.UK
Via: PopGadget