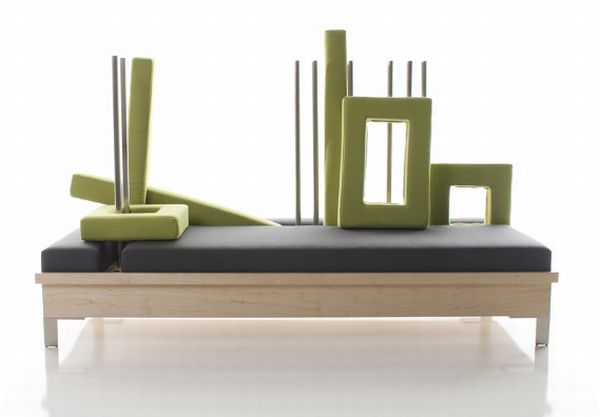 Are you on the lookout for a statement furniture piece that also saves space and changes form? Then you need not look any further. The CONSTRUCT chaise lounge by Mathew Otto of Northern Michigan University's School of Art and Design is the perfect example of a form changing and space saving creative design piece. It is a slightly more colorful adaptation of the multipurpose furniture quite in vogue for decades now and perfectly suits today's lifestyle, where families and their houses are small and crunched for space.
In the present day market there is a huge demand for stimulating space saving, pieces that prove to be sustainable in the long run for couples, single professionals and small families. Whether these be seracs, foldable beds, tables, multipurpose kitchen heads or the featured CONSTRUCT chaise lounge. The CONSTRUCT chaise lounge morphs from a pillowed daybed to a sofa with an eye-catching back within minutes.
The fresh colour scheme of lime green mixed with the more sombre grey is quite refreshing for modern homeowners. The CONSTRUCT chaise lounge is made of Maple wood, cushioned upholstery and aluminium bars with a dimension of 81.28 cm x 248.38 cm x 35.5 cm and can easily fit into a small studio apartment in the big city.
The eye-catching details on the back are pretty unique and contemporary even for a form changing chaise lounge. Go in for this piece if you are one of those smart people who like to live differently and show it too.
Via: Nmusalonesatellite