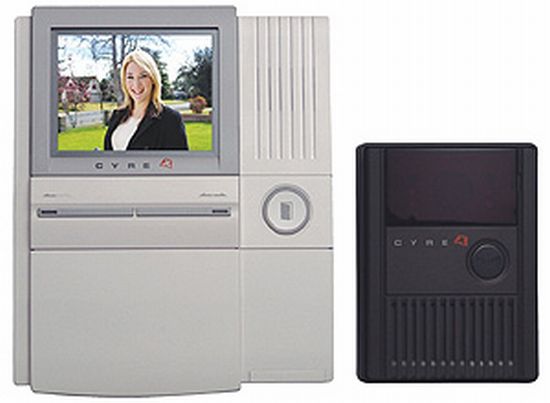 Many times it happens that we respond to the door bell only to find an undesirable guest on the other side of the door. In order to prevent such unpleasant happenings, Cyrex Networks has come up with the CHF 650 hands free intercom system that allows you to know the identity of the person on the other side of the door. The 4 inch LCD CHF650 intercom color monitor system consists of a 1.3 inch color camera that can take accurate snaps of the visitor both during daytime and night regardless of the lighting- a feature that is first of its kind in the industry. You have the choice of activating the intercom communication by just pressing a button. You can also hear the person at the other end of the door.
Moreover, there is a 32-picture memory system that lets you know who was at your door even when you are not available at home. Now, this equipment seems to be a boon for all those people who seem to be frequented by unwanted guests, sales persons and strangers. You need to open your door to only those people you want to. The camera operates in color during daylight and in black and white during low illumination, for example, at night time. The only snag is, during night time when the picture detailing needs to be more accurate, a black and white image can prove to be a limitation in identifying a person accurately. However, there is an integrated infrared system that provides extra illumination to allow night viewing.
Another feature of the CHF 650 is that you can adjust the volume of both the intercom and chime, thus saving yourself the pain of listening to irritatingly loud sounds. The doorbell button is illuminated so that the visitors do not have to grope for the doorbell at night. Being connected by just a couple of wires it is easy to install. The door station is whether proof. You can be assured that your doorbell is going to function well even during rainy and most probably stormy weather unlike other electronic appliances. The view angle of 92 degrees not only gives you a view of the person standing directly opposite the door but also those who are standing towards its sides. There is an indicator to show whether the door is an open or a closed state. Hence, even if your door is open by a visibly undetected degree, you can come to know about it. Moreover, you can operate the door remotely.
On the whole the CHF 650 gives you full freedom of treating a visitor the way you want to. You can save yourself the embarrassment of having to encounter an unwanted guest.
via: Future Home Systems