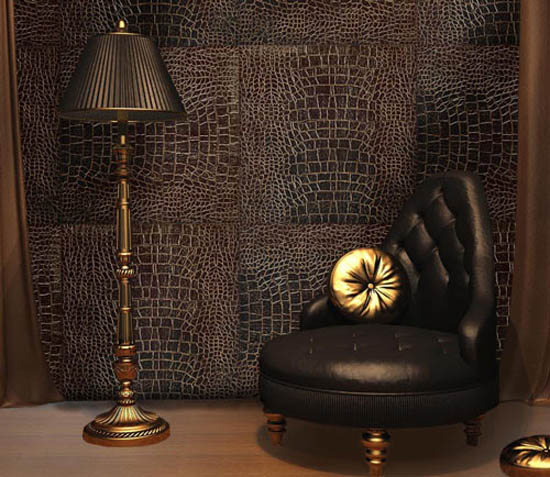 A lot of homes in recent years, have wood floors, but the concept of wood hardware tiles on the walls is an evolving and new concept. However, the concept of wood tiles for wall has come up by keeping many utilities in mid.The wood tiles on the beautifully painted wall, not only increase the functionality and luxury of the space and also provides it versatility as well. The main advantage of using the wood tiles is that, it can be perfectly used in all areas of the home including bathrooms, living rooms, the kitchen or the foyer area. The wood tiles on the wall have resemblance to floor hardwood tiles. Both of them can be in the form of mosaic designs, straight panels or can have a intriguing pattern of small clusters of wood, which are paneled together to create an integrated whole.
Here is a glimpse of some of the wonderful features of the wood tiles designed specifically for walls. Some of the unique and original line of these architectural wood tiles are the prestige line and the charm line. The prestige line is intricately designed with walnut burls and the crotch parquets. Moreover, it is available in irregular and centered versions, for the purpose of utmost customization as required. It also provides a timeless and classical luxury and glamor along with an appearance that resembles marble tiles to a great extent. The charme line is the other type of wood architecture where the raw and natural beauty of the grain of wood is used. High or bas relief designs are used here extensively in order to create subtle and intricate graphic lines with engraved designs. This can give your room a perfectly dramatic and interesting look with royal exuberance.
The wood tiles should be selected as per the space, design and structure of the room. It should compliment the room and provide it the necessary simplicity yet attractiveness to make it more beautiful. You can use a specific wood quality or can combine various type of woods to form a mosaic print. It will give the necessary dynamism and vibrancy to your room.
The most brilliant way for placing wood wall tiles is by weaving them together. This will yield a simple yet creative design, which will be durable and strong also. The natural material can be utilized in a more comprehensive way. Some weaves contain a small amount of wood which is further interlaced with other some other strips of small sizes. This creates a plaint of wood pieces. They flow together and create a charming and elegant hardwood wall tiles design.
You can consult a designer for getting a simple yet attractive solid panel wood tile design and for a charming wood mosaic design, especially for your walls. While deigning a new area of your house you can get the wood tiles designed beforehand as well.
With proper care and maintenance, the wall wood tiles can be preserved for a long period of time. They will provide you the luxury feeling and make your home and rooms attractive for years and years if you just devote some of your time towards their caring. Wood wall tiles are a growing trend and the industry would be reaching new success boundaries in the near future as the demand for wood tiles is increasing exponentially.