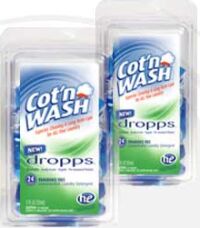 If washing clothes is a hassle for you and getting that accurate measure of detergent is even bigger a hassle then here is something that will put a full stop to those hassles and bring a smile on your face. Here is cool detergent product, which features dissolvable concentrated laundry detergent.
Now you don't have to measure any more…just take of those packets put it in the washer and its done. Isn't Convenient?
Known as Dropps the detergent is available at Cot'n Wash Inc. at $13 for a 24-pack.