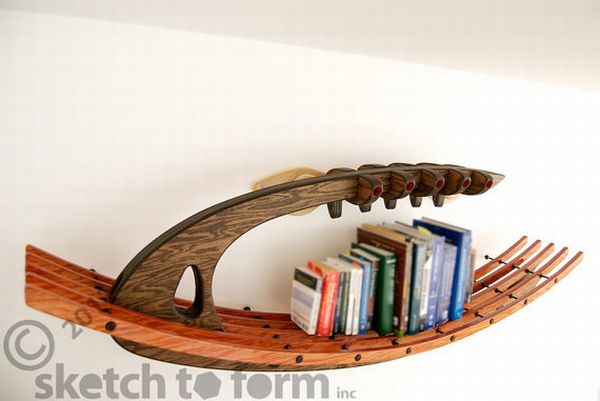 We all know about samurai warriors; yes, the highly-trained Japanese fighters who were masters at winning wars using their specially designed sword. A samurai warrior's best friend was his sword and he shared a special relation with it. US-based eco-friendly furniture maker Sketch To Form has in its own way taken forward the legacy of these strong warriors. The company has designed a samurai shelf using eco-friendly fasteners. The samurai shelf differs in its look from ordinary shelves, and according to its makers, it carries the load of knowledge and wisdom and not just articles.
The artists at the company got the inspiration to design this one-of-a-kind shelf, which can handle a load of 100lb, after watching legendary Hollywood film-maker Akira Kurosawa's super hit film based on Samurais, Seven Samurai.
Akira's film is well known for portraying the samurai in a different light. The film shows that the samurais closely guarded the Japanese traditional practices and the protagonists of the film captivated the designer, who was impressed by their intelligence and dedication towards their art. The artist's idea towards life changed after watching the film and he thought of coming up with something which could take the glorious legacy of the samurais forward. The Samurai Shelf is a result of this dedication. Look at the shelf, which weighs 20lb, closely and you will find that it resembles a Katana sword, which was used by samurais. Sketch To Form has used normal materials like eco-plywood oak veneer, steel, brass, nitrile, stainless steel and solid oak to design this masterpiece, which comes with a life-long warranty.
Via: Etsy