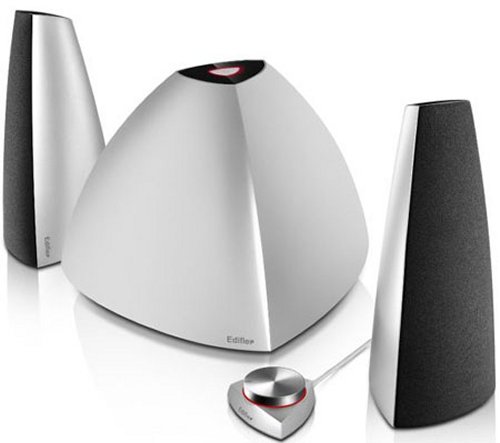 If you are the one who is on lookout for the smart looking speaker system that offers the best sound to let you enjoy your favorite tunes then the cool new Edifier Prisma Silver E3350 would be able to please you. It's a 2.1 speaker system that comes in a pyramid-shaped downward firing subwoofer and beautiful little satellite speakers which enhance its overall appeal.
The speaker system features Star Trek styled wired controller, red circular power indicator, headphone jack and an input for MP3 /CD players.
Key Features :
• Exotic pyramid shaped downward firing subwoofer
• 2-Way satellites with soft silk dome tweeters – magnetically shielded
• New anti-resonant composite material satellite enclosures
• Separate bass level adjustment on subwoofer
• Unique aired controller with red Halo style design power indicator includes headphone jack and input for MP3, and CD players
• RMS 50W(13+9×2);
• 248 x199 x 294mm (W X H X D) subwoofer
• 96 x 234 x 118mm (W x H x D) satellite
• Weighs 5 kg
• Comes with100V-240V wide range AC power adapter-8V
These speakers sitting on your table top will let you enjoy your favorite tunes ins style. The exotic looking Edifier Prisma Silver E3350 2.1 speaker system will cost you $129.99 and is available online at Amazon.
Via: Slipperybrick