We have a lot to thank the Danish for: LEGO, mouth-watering pastries, minimalist-chic style and, of course, Borgen, the gripping political drama streaming on Netflix. Another one you can add to that list? The concept of hygge, a Danish word associated with coziness, comfort and an overall sense of contentment.
For more Bedroom Designing tips Click here
Hygge (pronounced "hoo-gah") has exploded in recent years, in no small part thanks to its emphasis on the things that matter in life: socializing with loved ones, indulging in good food and regularly prioritizing self-care. The concept can be applied to just about any aspect of life, including one's home.
If you're looking to incorporate a little hygge into your home, start with your bedroom. The bedroom is your personal space where you go to relax and sleep, which makes it the ideal candidate for a hygge refresh.
Here are eight easy tips for turning your bedroom into your personal hygge heaven.
1. Reach for cozy blankets and bedding
Everyone has their own idea about what a hygge bedroom should look like, but almost all hygge-enthusiasts agree that cozy blankets and bedding are a must. To make your bed look extra inviting, choose white or neutral-colored sheets and invest in a fluffy comforter that is warm but breathable. If you want to keep the calming vibes going, layer your bed with a soothing weighted throw blanket in a solid, neutral color. Consider draping a chunky knit blanket across the bed or tossing it on a nearby chair for added touches of coziness.
2. Opt for a calm color palette
Because winters in Denmark are long, dark and cold, the Danes generally gravitate towards lighter wall colors in neutral hues. Along with brightening up a dark space, choosing the right shade of white or gray for your bedroom walls can make it easier to mix and match different textures and styles — another common characteristic of Nordic interior design.
Of course, white walls aren't relaxing to everyone. If you prefer to have a little more color in the bedroom, consider going with warm greige (gray and beige) or a light blue. Remember, you can always add pops of color in rugs and accents!
3. Embrace the light
Giving your bedroom a warm glow is perhaps one of the easiest ways to make your bedroom look cozier and more inviting. First, try to take advantage of natural light by raising the blinds in the morning and adding a mirror to expand the amount of sunlight in your bedroom. When the sun goes down, turn off your overhead lighting and use candles, lamps and sconces instead. This will give your bedroom a cozier lighting scheme that is perfectly hygge.
4. Seek out natural materials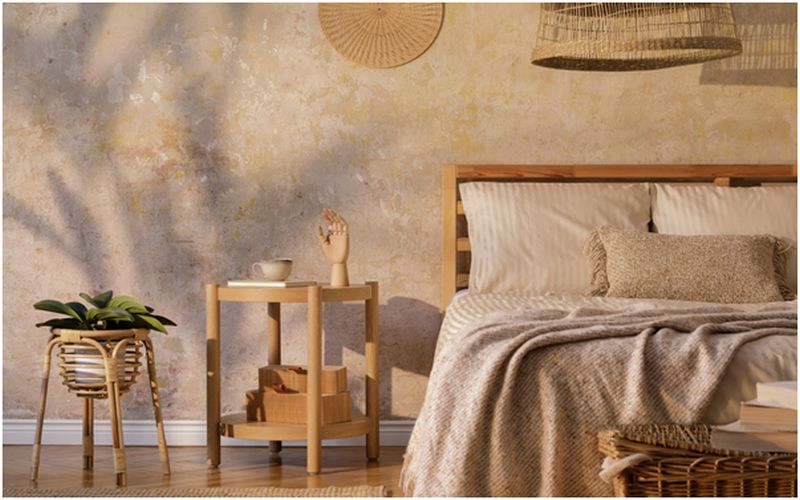 Did you know that despite their long and cold winters, Nordic countries are among the happiest in the world? Some experts believe that their happiness stems from their desire to spend time outdoors all year round.
You can see this deep appreciation for nature in the way Scandinavians decorate their homes. To mimic the look, reach for natural materials such as wood, sheepskin and linen. These materials add instant warmth to neutral walls and promise to make any space feel cozy and inviting.
Whatever you do, stay away from high-shine furnishings like lacquers and certain metals. These glossy details give your space an artificial look, which is the exact opposite of hygge.
5. Take a lazy approach to making your bed
If making the bed every morning is your least favorite chore, you'll be pleased to know that taking a military-style approach to making the bed isn't usually considered hygge. Instead, interior designers often recommend taking a lazy approach to making your bed to give it an authentic, lived-in look. (To see what we mean, just search for "hygge bedrooms" on Pinterest and you're bound to see hundreds of beds with artfully mussed bedding.)
Linen bedding lends itself particularly well to this style due to the fabric's wrinkly nature, but you can pull the look off with any type of bedding. To strike the right balance between messy and perfectly made-up, simply make your bed as you would normally, throw your comforter on haphazardly — and voila! A bed that's just begging you to dive back into its cozy covers.
6. Prioritize your comfort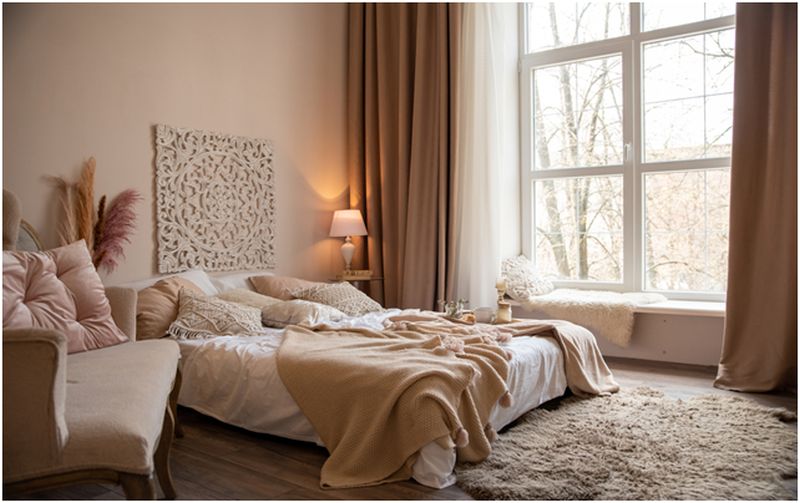 Hygge is all about creating a calming oasis that supports your well-being, so don't be afraid to incorporate a little self-care into your bedroom design. Something as simple as keeping a weighted robe nearby can help make your mornings significantly comfier and much less stressful.
Other ways to incorporate self-care into your bedroom design include:
Keeping a glass water carafe on your nightstand.
Burning a lavender candle for stress relief.
Splurging on a nice pair of slippers.
Creating a comfortable reading nook.
7. Tidy up
By now, you probably know that decluttering your space is key to creating a relaxing space. Research has shown that clutter can increase stress, which is the exact opposite of what hygge promotes. But what you may not realize is that keeping your bedroom tidy can also free up room for more meaningful items that make you happy. With that in mind, take a tip from Marie Kondo and get rid of anything that doesn't spark joy in your life.
8. Embrace greenery
Honestly, who doesn't like the look of houseplants? Whether it's a gorgeous pothos, an eye-catching monstera or a simple aloe plant, there's something about houseplants that makes us feel calmer and happier. Not to mention, certain types of plants do a great job of purifying the air. If you're new to plant parenthood, start with a low-light (and low-maintenance) plant, like a ZZ plant or a snake plant.
With cold weather starting to settle in, there's no better time to hygge-up your home. With these tips, we're here to help you do it in style!
Article Submitted By Community Writer