Design concepts change every day and at the moment, straight lines are OUT and Curves are IN.
Shelving units are the basic necessities of any home, either for displaying your knick knacks, as a library or to use as storage. While you have a hundred varieties of shelving unit in the market, most of them are designed on the same boring straight line concept. Straight lines not only eat up space but also give a bulky feel to the room.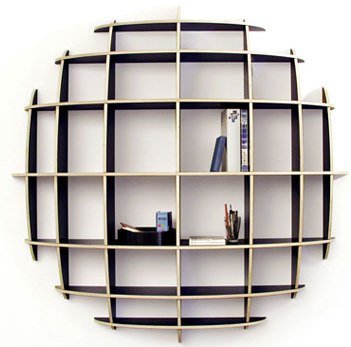 If you are looking for something that's chic, elegant, and something different, then Ellips shelves are something you should be considering. Elegant curves replace boring straight lines creating an illusion of a sphere. The fluidly shaped form flatters the wall handling the space differently.
'The center shelves are the largest and the rest of the shelves grow smaller as your eyes wander towards the end of the unit. So, you have just the right size of shelving for all your knick knacks. The plug-in connection system with its metal latches offers an easy and tool-less assemblage. It can be mounted or dissembled easily offering a pleasant mobility.'
These elegant shelving units made of Birch plywood come in three different sizes and in four different colours -white, black, cognac, maroon, and red, so pick one to suit your needs and flatter your walls!