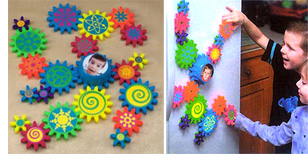 I keep pouring in with stuff to adorn your cooling machines%u2026I mean those refrigerators. I don%u2019t like them so plain and empty, unless they are not one of those Retro styled.
FridgiGears is another accessory to deck up your fridge. These cool gears that come in different sizes are made in plastic that can be stuck to the fridge in various patterns.
Now the real fun comes here, just move the first motorized gear and you%u2019ll see the entire pattern rotating as in machinery.
This is something kids will love playing with, I hope these gears are soft enough to put scratches on the fridge, for it would be hard to control kids playing with these exclusive toys.
Available in a pack of 20 gears at seeFred.com for $23
Via: OhGizmo