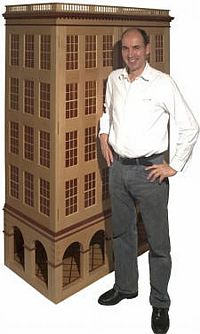 The basic concept of Furniture Follies is beautifully hand-made furniture from solid wood, resembling actual buildings. What might appear as a doll-house on first look may surprise you as a spacious cupboard!

The basic idea is to place a kind of furniture in your home, which serves its purpose well, besides being appealing to the eye. The designers are quite prepared to work with you to personalize a piece according to your desire.
Now, how would you feel standing in front of these miniature buildings shaped furniture pieces, is for you to imagine. Let me suggest that your child would definitely love to feel like Gulliver in the land of pygmies!
Via: Luxist