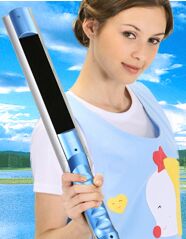 Attention all those obsessed with cleanliness! If you are one like me who can do almost anything to remove even the last dust particle from your home then the Enputech Purelight UV Sterilizer is a must have for you.
This looks like that magic wand that uses UV-C sterilisation to clean every surface which it passes over. Purelight will kill all the disease causing germs from your kitchen counter tops, bed, pillows…and even that toilet.
It comes with a rechargeable battery…but the fully charged gadget will work for just an hour…I think this might be one negative point in Purelight, otherwise this being a great product.