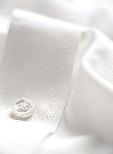 To get the whitest white try adding half cup of lemon juice to the rinse cycle of a medium load of whites. This acts as a natural bleach to white clothes.
To brighten the whites, add half cup borax or washing soda to a medium load of laundry.
Drying whites in dark may cause yellowing of the fabric. So always try hanging your white cotton fabrics in the sun hanging on the line.