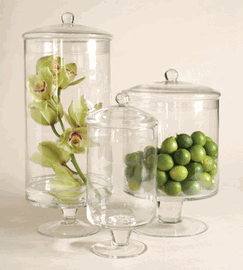 Taylor Jars from Aero can be a great addition on your dining table. The elegant jars in clear glass are a treat for the onlookers for they look unique with that stem and stand.
The jars are versatile enough to hold almost anything right from your favorite cookies to a decorative flower arrangement. The jars bring to you the good old glass containers in an all together fresh look with a hit of modernity.
Taylor jars are available in three sizes priced at $22.00, $60.00 and $64 in the order of size.