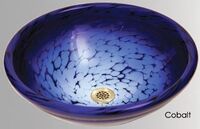 It seems I'm falling in love with glass…everyday I come across one or the other beautiful creation in glass that I end up appreciating the material all the more. These exotic sinks made in Hand-Blown glass are one such exotic creation to adorn your home.
A product of Seattle Glassblowing Studio, each sink is a result of a great deal of hard work from eight-person team and exceptional artisanship. Each design is unique and a different from the other.
The sinks are available in a wide variety of textures and looks. You can choose from translucent or opaque, multicolored or mono colored, as per your liking and requirement. The gleam that they give when light falls on them, will be a center of attraction in your home.
Have a look at the entire collection here.
Thanks Joe