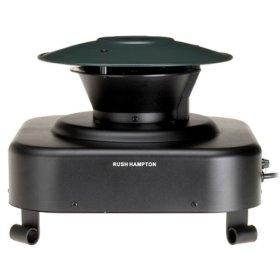 If it is not love but bugging mosquitoes that are the real reason behind your sleepless nights and puffed nights, then you have all the reasons to bring home the all new Rush Hampton 61001 Mosquito Catcher. Unlike the traditional mosquito zappers, this one is a chic odorless and most importantly soundless (read irritating buzzing soundless) mosquito catcher. If it is neither an odor nor some irritating sound then how does Hampton works?
Instead of sound and odour this one uses light and air. Yes, it uses light to attract mosquitoes and a fan to suck them inside the unit, where they are trapped.
Easy to install and maintenance free, this unique gadget is pretty safe with kids too.
Price: Under $100.
Via: LuxuryHousingTrends