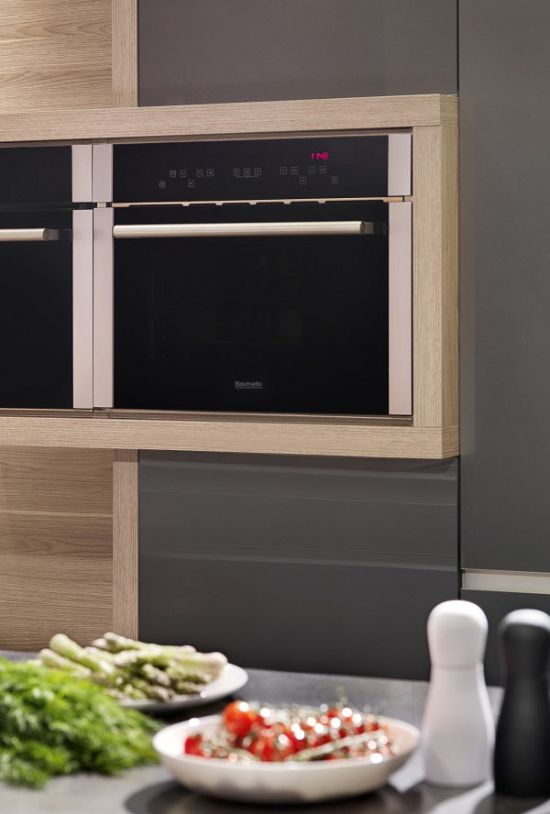 The Product
I'm sure your mother always told you that the healthiest food was steamed food. Steam cooked food preserves nutritional value and does not require you to add oil or butter, reducing the fat content in the food. If your old microwave oven kept you from going the healthy way, switch to the new BCS460SS steam oven from Baumatic. This compact steam combi oven is the new entrant to Baumatic's popular premium-line collection.
Baumatic strives to make all its designs ergonomic, functional and energy efficient ensuring their products are always a trend setting statement. Their highly qualified product design team consists of names like Alberto Solari and the like. All their products boast of two important qualities, beauty and functionality. The company is now operational in 46 countries around the globe.
Overview
The exterior design of the oven matches the rest of the Premium line products with a chic black outer body with a stainless steel trim. The oven is light weight and the dimensions are small enough to fit snugly in any niche at 46(H) X 60(W) X 57(D)cm. The top control panel is touch sensitive and electronically controls the thermostat.
User-friendliness
The interior cavity is built with stainless steel and the outer door is made of triple glazed glass ensuring that cleaning is always a one smooth swipe affair. The display on the front panel comes in 10 different languages, so no matter what country you are in, this oven will be the smart addition to your kitchen. The oven has a 31 liter capacity which allows you to cook different dishes together without the taste of one interfering with the other.
Utility
The oven is equipped with small light and an internal cooling fan. Also, the front panel offers 6 different cooking functions such as steam cooking, regeneration, professional cooking, hot air cooking, hot air, steam cooking and low temperature cooking. Apart from this, there are also 50 preset cooking recipes to make use of.
What's in for me?
In addition to the great cooking experience and healthy food that this oven promises there are accessories such as inox perforated baking trays, safety shelf, removable side racks and meat probe that come with the standard package so that you are ready to start cooking as soon as your oven arrives. Besides, the BCS460SS is rated 'A' for energy efficiency meaning that it will not add any zeroes to your power bill.
Via: Thekitchendirectory