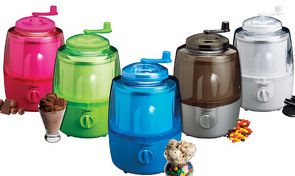 I just love to treat my family and friends with home made ice creams and cake. As a great help in my former hobby to make home made ice creams, I came across the Deni Automatic Ice Cream Maker.
It's easy to operate, convenient to handle and best way to churn out yummy ice cream right at your counter top in just 10-20 minutes. What gives this one an edge over the other ice cream makers is the fact that it neither requires loads of ice nor salt…yes, just fill in the ingredients and there you go!
Apart from ice creams, Deni also treats you with frozen yogurt, sorbet, gelato, sherbet, low fat and fat free desserts, frozen drinks, and a lot more. PHEW!! I think this much is enough a bait to make you get a Deni for your kitchen What say?
Priced at $59.99, Deni is available in five zingy colors to choose from.
Via: Kitchen Contraptions