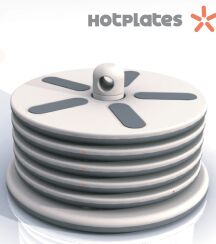 You must be using designer placemats while having food. Here is something really innovative that will solve a dual purpose of a food warmer plus of usual placemats.
These are Hotplates: a set of heated placemats that keep your food warm during your meal. Hotplates designed by Eddie Goh is a series of 5 plates that is aimed to keep your food and drinks warm, till the time you eat or drink it and even while you are eating it.
These plates are chargeable via a magnetic induction charger that comes with the set. The plates are arranged around a pin, which when switched off activates the automatic charger. The ring like grip featured on the plate facilitates easy handling.
Via: Yankodesign