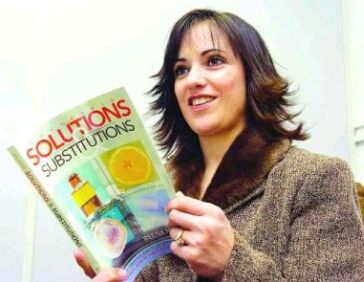 Have you heard the old saying 'Make every situation work out for the best'. This is what Reena Nerbas mother of four did. Her inability to clean up a big, ugly, brown stain on her new carpet gave her the idea to research for solutions which in turn provided her a job and a book.
Her new 116-page book titled 'Household Solutions & Substitutions: Easy Stress-reducing Quick Fixes for the Kitchen, Bathroom, Bedroom, Laundry & Stains, Garage & Garden' (Centax Books, $14.95) offers more than 1,000 solutions, 'designed to take the hassle out of day-to-day living and save you time and money' according to her. It also features more than 500 substitutions for the kitchen to face any emergencies.
She is now a regular writer for a weekly newspaper column for the Winnipeg Free Press and is often heard in radio shows. She is currently researching for her second book and you can contribute too.