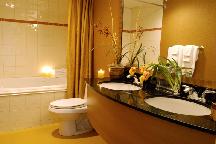 All of us were not born rich enough to enjoy the luxury of large custom built bath and dressing room.
But a bit of change in the color and light scheme can actually transform your small bath into a cozy retreat.
Using soft, pale colors make the same small place look bigger. Accessories and towels should be done brightly but backgrounds should be done in neutrals, whites or pastels only.
Unnecessarily hanging racks, shelves and decorative accessories makes the bathroom look small.
The vanity cabinet should be replaced with a pedestal or wall mounted sink.
Such small steps go a long way to ensure that your small and cozy bathroom looks bigger than ever.