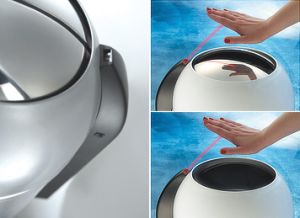 Consider or not, but waste bins have an important role to play in our home and willingly or unwillingly we try to buy the best ones for our home, to keep the germs at bay. Here is a similar kind of a waste bin that is good enough to be tagged as intelligent. It's christened as I Master.
The uniqueness of the I Master lies in its touch less methodology that it follows. As soon as it senses a human had approaching it, the infra red sensors open up the lid, eliminating all the possibilities of transmission of germs.
With this kind of automation, the big price tag worth $300 does not cost big to me, although, I might prefer my good old push to open waste bin at the moment. But of you have money, then why not spend it on keeping your family safe and healthy?
Via: Popgadget/QuestoDesign