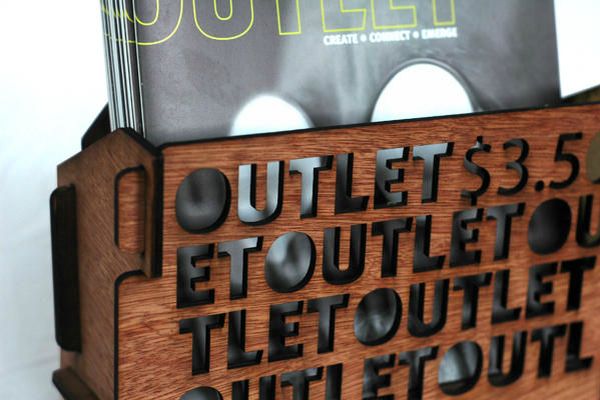 John Kenneth Adams, a graduate from Savannah College of Art and Design in collaboration with Andrew Hosford has created a stunning digital fabrication magazine stand for the OUTLET magazine. Each magazine has a distinct character and personality of its own and to have a stand to match or even display the same is a great form of visual expression; the OUTLET magazine rack does precisely that!
OUTLET is a quarterly magazine, which is a non-profit publication and an open forum for Savannah (a creative community), dedicated to showcase the work of artists. The audience of this magazine is limited and mostly comprises of people having an artistic inclination. The OUTLET magazine stand adds more character to the magazine as the artistically designed stand hints at what it holds.
The manufacturing and the design of this magazine rack was from Savannah and is crafted from lazercut luan. The entire design is such that it can be dismantled and easily assembled. The magazine stand is also very environment-friendly as it can be recycled. The magazine stand is a very innovative idea that came from the staff of OUTLET – which now has heads turning.
Via: Substratumdesign