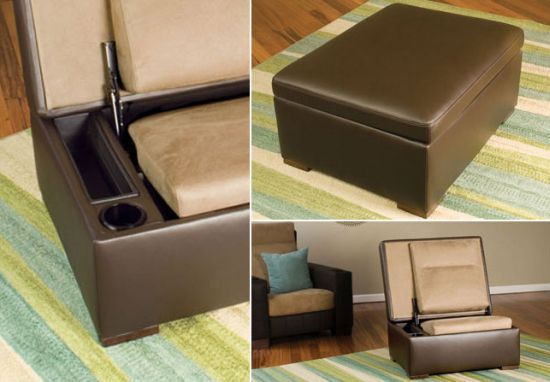 Are you planning a home-shift next year? Are you worried about carrying all the furniture down to the new docile? Do you have intent plans to sell off the old dilapidated couch and the ramshackled show case you used for storing the CDs and DVDs? Okay, do that outright with no more double thoughts. Once you reach to your new residence, buy the latest pair of ultra-practical seating products designed by Salamander Designs Ltd. It's the Jump Seat Ottoman and the Storage Ottoman, due for introduction in January at the 2008 International Consumer Electronics Show in Las Vegas.

As an innovative piece of modern furniture, this unique seater unfolds into a hide-away theater seat that can be used as an extra seat while watching movies or playing video games. The Storage Ottoman unfolds to expose a voluminous compartment idyllic for storing game systems, CDs, DVDs and accessories.
There is an added advantage of cushioned surfaces ready to convert from a comfortable seat into a luxurious lounge. So, you see the Jump Seat Ottoman and the Storage Ottoman perfectly replace your wearied out furniture adding the shine of smart furniture to your recluse. Just wait for another month and you will be able to access this rather handy space saver.