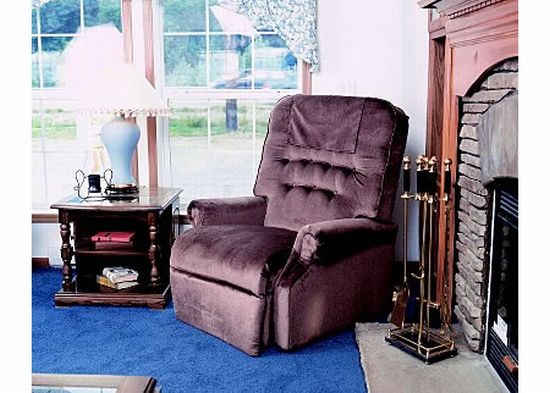 Have a look at this king sized velvet chair. Honestly no other chair can surpass this extra-soft lift chair when one has got exhausted in accomplishing daily tasks. As a matter of fact this relaxing chair is perfect for those who want the day to end in superior comfort.
This sturdy and graceful lift chair has a single-switch that is controlled by hand to adjust the chair into three different heights. With its largeness the chair is excellent for heavy people and can easily bear weight of 500lbs. It is incorporated with a heavy-duty scissor lift mechanism, which provides extra strength and durability to the chair.

Worry not in case of outage as in this emergency the chair will bring you back to its original position with the help of built in battery backup and 9 volt batteries (have to bought as not included with the chair).
Available in blue, cranberry, almond, sage and chestnut vinyl colors to match your interiors the chair would also work as a cozy place for your child where he could read his favorite story book before he dozes off. Buy now here….
Source: Luxurylaunches