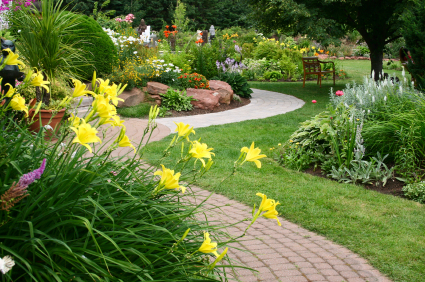 While working towards achieving that perfect landscape, many people encounter some common landscaping disasters which . Even if they can be fixed back, it does take time and resources to redo it all over. To achieve the maximum satisfaction of your landscape design, you need to avoid certain pitfalls. Here are some mistakes that can occur in landscape designing.
Not planning before you start
Landscaping without a proper layout plan will only invite trouble. You need to work from the start by drawing up a plan and sticking to it. You can concentrate on a larger area to begin with and implementing that area before you begin on the next site. Many people make a mistake because they start randomly without a proper plan and without sectioning out the garden area. If you have a large garden and find it difficult to decide exactly what you want, then you need the help of an experienced landscape designer. The things that you have to consider are the placement of your shrubs and plants according to the style and shape of your house. As you prepare your plan you would also have considered the budget. Therefore, try not to exceed the budget or keep changing your plan.
View from the window
While planning a landscape garden many people tend to forget what the view will look like from inside the house. Therefore, consider the view of the garden from all angles inside the house and outside. You must be able to view the garden through all major windows at the beautiful foliage and trees. You will also need to harmonize the design with the interiors of your house so that there is a continuity of design theme. When you look out of the window, you should be able to look upon balanced harmony in the garden.
Following the trend
Just because your neighbor has a beautiful lawn does not mean that you need to put in the obligatory lawn in the backyard. A lawn is simply a new addition in recent times and is just a monotonous green carpet which entails weekly mowing. If you are not attracted to lawns, there is no reason why you should have a lawn just because other's have. You must also understand that planning a lawn and putting in garden beds require weekly maintenance. If you have no time to care for the lawn and the flowers, then you need to find other alternative way of sprucing up your backyard.
Insufficient or too many colors
We tend to do planting only in the spring and summer, completely forgetting to plant in fall. Fall season holds great potential in terms of colors for landscape designing. Therefore, do not miss planting some great vines and shrubs which can create wonderful fall foliage. On the other hand, if there are too many bold colors in the garden, it can become very confusing and distracting. Look for colors that work well together or take a look at the color scheme of your house and choose colors that complement the house. Create harmony in the landscape by choosing semi-monochromatic colors.
Being shortsighted
Plants do eventually grow and spread out in ways which you may not have visualized. Therefore, you need to know how the plant will spread and reproduce and the kind of maintenance they will require. For instance, people plant trees without taking into account that it will grow and spread out too close to the house. Before planting anything it would be better for you to consult garden experts who can better guide you.
Failure to irrigate
While we enjoy having beautiful plants in our garden, it is seldom take into account the times we may be away on holiday. During these times, unless you have requested a friend or neighbor to water your plants, there is every chance of your plants dying out. Therefore, be prudent enough to install automatic irrigation system if you are someone who travels a lot.
Planting in the wrong place
Many people make a mistake of randomly planting wherever they feel a fancy, without taking into account some important facts. This is planting without considering the amount of sunlight or exposure required by the plant. Some plants prefer shades and as such, these need to be planted in shady spots. You can plant succulents in very hot and sunny spots. Follow the instructions given on the plant tags when you buy them.
The other factor is the erosion problem if you have a steep sloping garden. You will need to build a retaining wall first before you start planting. This will keep your topsoil from eroding even during heavy rainfall.
Failure to plant deer resistant plants
No matter how well you may be maintaining your garden and how meticulously you follow it through, if you fail to incorporate deer resistant plants in your garden then all your efforts will go to waste. This is important especially in areas where deer stalks around looking for a good snack.
No proper tools
You will need good tools to get things done around in your yard. If you do not have a proper storage space made for the tools, you can either misplace them or they may rust out in the element. Therefore, get a good storage shed built into the corner of your garden, where all your gardening tools can be kept in an organized way. As long as you have good tools in good condition, your gardening tasks will become much more enjoyable and quicker.
Make do with what you have
If you have a rocky yard then instead of fighting it you can go along with the flow by working on it. You will need to know what options you have for a rocky landscape and move accordingly. You can add an aesthetic appeal to your rocky yard by being practical and functional in your approach. This will ensure that while your design is aesthetically pleasing, there is also enough safety and convenience in your rocky landscape design. If you have a family then a rock garden needs more safety reinforcement, in addition to being attractive.
Via link: http://landscaping.about.com/od/landscapedesignideas/tp/design_mistakes.htm