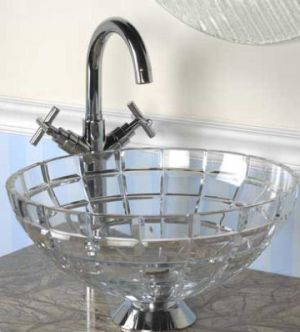 Honestly speaking, I don't have a bathroom elegant and luxurious enough to hold a vessel as elite as this one…but if you have, I think you cannot get an accessory better than this to flaunt your real riches.
Made in crystal, the vessel is a clean and sophisticated design from Le Bijou Collection.
No less than a lavish piece of jewelry is a treat to watch when light falls on it. The flawless crystals cut with in a detailed checked pattern give this one an interesting look, while the 16 3/4″ adds into the functionality feature.
Just team the vessel up with equally grand water faucet and there you have a washing area anybody can die for!
Via: Le Bijou