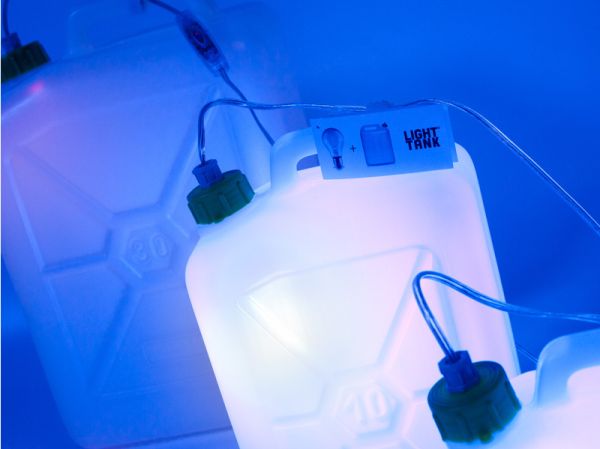 Remember that episode from FRIENDS where Chandler and Monica decide to make each other Valentine's Day present. Where Chandler goofs around chopping toes off old socks and staring at cloth hangers in an attempt to find a way to make it look like craftwork? This Light Tank basically does the same thing, only in the name of modern industrial design!
The uninspired light fixture basically comprises of plastic canisters of various sizes with a white 11W lamp fitted inside. Artistically, it would rank somewhere near a tennis ball fashioned from old shower caps but innovatively, it's a top notch. While all the other fancy designers were off studying the light-reflecting properties of crystals in Belgium, the genius behind this lamp probably "invested" all his college tuition in smoking bagfuls of pot. We say so only because, no one, except a true hemp head could possibly find ethereal beauty in mass-produced, cheap, white polyethylene shell-shaped canisters usually found in dark, grungy corners of one's garage.
But that's really the appeal of this otherwise hideous creation, isn't it, that the most mundane object could be used as an artistic lifestyle piece. And if you are the kind of person that likes to make "statements" with your interiors, then this is the piece for you. Surely, you'll run the risks of making a statement like "I'm too cheap to buy a real lamp" but it could just be a very clever way to tell your boss that you desperately need a raise!
The lamp is available in 4 sizes of 5/10/20/30 liter tank, comes in four models- the indoor/outdoor models for the cool white light (IP rating 65) and the indoor/outdoor models for RGB lights (IP rating 65).
The light-changing options come with a handy remote control and add the much needed fun element to the Light Tank. Although, you might need to deal with some serious buyer's remorse to shell it out €60 for the thing!
Via: Light Tank