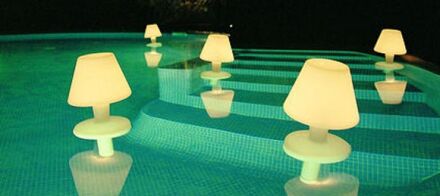 All those who are lucky enough to have a personal swimming pool in their home and keep organizing pool parties will definitely love the cool pool lamps that are good enough to set the perfect party mood.
These sexy lamps float in the water, being light in weight and create a dramatic effect in your party. Designed by Hector Serrano, these are rechargeable so they will illuminate your pool over and over again. No doubts, you will be spending a bit too heavily on electricity if you buy them but still, all is fair if giving a warm welcome to your friends is on your mind.
You'll get them at a price of $450 each at Metalarte's…so have a look at the collection and make your pick.
Via: CoolHunter